®

Today's poem is "Doorknobs"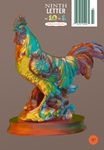 from Ninth Letter
Lois Marie Harrod
's thirteenth collection, Fragments from the Biography of Nemesis, is forthcoming from WordTech in March 2013. She won the Tennessee Chapbook Prize 2012 (Poems & Plays) with her manuscript The Only Is. She teaches Creative Writing at The College of New Jersey.
Other poems by Lois Marie Harrod in Verse Daily:
March 2, 2012: "Headway beyond Fresh Kills" "What was a flagging headway of salty trees..."
July 2, 2011: "Love, the English Teacher" "Love, the English teacher, grades the snow...."
April 16, 2006: "Walt Whitman's Sermon on Spirituality to a Certain Congregation of Worms" " Open your mouth to the cease that surrounds..."
September 27, 2004: "Voltages for Different Locations" "And I began to think of my heart as a ferris wheel..."
Books by Lois Marie Harrod:

Other poems on the web by Lois Marie Harrod:
Five poems
Two poems
Four poems
Five poems
"Stuck in an Elevator with Medea"
"The Naked Man in the Glass Elevator"
"Lunch at Lakewood Middle School"
"How Marlene Mae Longs for Truth"
Two poems
"The Shadow of a Crow"
"Lucky Seven"
Lois Marie Harrod's Blog.
Lois Marie Harrod's Home Page.
Lois Marie Harrod on Twitter.
About Ninth Letter:

Subscription: 1 year (2 issues), $21.95
Ninth Letter * University of Illinois * Department of English * 608 South Wright St. * Urbana, IL 61801
Poetry Editor: Michael Madonick
Other poems by Ninth Letter in Verse Daily:
July 18, 2013: "Refrain" by Maggie Glover
September 10, 2012: "Match" by Brynn Saito
August 19, 2011: "Peccadillo" by Scott Minar
July 29, 2010: "Unusable Elegy" by Zachary Harris
July 28, 2010: "Youths" by Michael Rutherglen
July 26, 2010: "Love Note" by Leslie Adrienne Miller
February 3, 2010: "Waking Up at the Wheel" by Christopher Kennedy
February 2, 2010: "Maimonides on What Is Meant by 'Vision'" by Benjamin Paloff
June 19, 2009: "A Great Whirring" by Bruce Snider
June 18, 2009: "It Is Virtually Without Thickness and Has Almost" by Angie Estes
June 16, 2009: "The Widdershins Garden" by Olivia Clare
Home Web Weekly Features Archives About Verse Daily FAQs Submit to Verse Daily

Copyright © 2002-2013 Verse Daily All Rights Reserved