®

Today's poem is "Model Minority"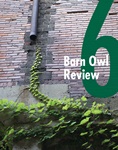 from Barn Owl Review
Jason Koo
is the author of America's Favorite Poem (C&R Press, forth coming 2013) and Man on Extremely Small Island (C&R Press, 2009), winner of the De Novo Poetry Prize and the Asian American Writers' Workshop Members' Choice Award for the best Asian American book of 2009. His recent work has appeared in The Yale Review, The Brooklyn Rail, The Journal, and elsewhere. The winner of fellowships from the National Endowment for the Arts and the Vermont Studio Center, he is an Assistant Professor of English at Quinnipiac University and Founder and Executive Director of Brooklyn Poets, a non-profit literary organization celebrating and cultivating the poets, poetry and literary heritage of Brooklyn.
Other poems by Jason Koo in Verse Daily:
January 19, 2010: "Target" "Today I'm thinking of all the people not in love: I'm with you!..."
July 24, 2005: "Driving Home, I see a Rothko Painting in the Distance and Pull Over to Give It a Lift" "When I stop to pick it up, it's standing in front..."
Books by Jason Koo:

Other poems on the web by Jason Koo:
"A Natural History"
"Empty Orchestra"
"Kissing You"
Two poems
Two poems
"There Is No There, There"
Jason Koo's Website.
About Barn Owl Review:

Subscription: 1 issue: $12
Editors-in-Chief: Mary Biddinger * Jay Robinson
Other poems by Barn Owl Review in Verse Daily:
May 23, 2012: "Epistle" by Kate Jenkins
May 22, 2012: "Frenemy" by Krystal Languell
May 21, 2012: "[ ] [ ], [ ] [ ]" by Daniela Olszewska
March 17, 2011: "Red Salmon" by David Dodd Lee
March 15, 2011: "Detachable" by Jenna Cardinale
August 29, 2010: "Too Darn Hot" by Sarah Perrier
August 26, 2010: "Worse Than The Bite" by Rebecca Givens Rolland
August 24, 2010: "Between Seasons" by Rob Schlegel
August 23, 2010: "The Claw" by Angela Vogel
March 19, 2009: "Clouds" by Jason Bredle
March 18, 2009: "How it Started" by Leslie Harrison
March 16, 2009: "Return as Black Currant" by Anna Journey
February 23, 2008: "Proposal" by Sandra Beasley
February 21, 2008: "Scientific Method" by Adam Clay
February 20, 2008: "Driving Out to Innisfree" by Matthew Thorburn
February 18, 2008: "Street Fight" by Wayne Miller