®

Today's poem is "Sawhorses"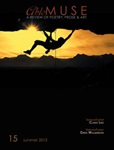 from Able Muse
Greg Williamson
grew up in Nashville and was educated at Vanderbilt University, the University of Wisconsin at Madison, and the Johns Hopkins University. His first book, The Silent Partner, won the 1995 Nicholas Roerich Poetry Prize from Story Line Press and earned the praise of poets as eminent as Anthony Hecht and Richard Wilbur. His second book, Errors in the Script (Overlook Press), was a runner-up for the Poet's Prize and had at its heart a daredeviling sequence of three-in-one poems called "Double Exposures," which John Hollander described as "deploying a technical device which totally transcends gimmickry, and, itself a fecund metaphor, allows the poems themselves to raise fascinating questions about knowledge, memory, and their own stability and truth." His most recent book, A Most Marvelous Piece of Luck, received ebullient reviews from The New York Review of Books, The Yale Review, and The Times Literary Supplement; critic and poet Brad Leithauser wrote, "Cleverness of this high-flying sort can transport a book ... quite some distance, but on its own probably would be insufficient to make A Most Marvelous Piece of Luck the success that it is. The book holds up so well, richly repaying rereading, because there's a somber, eerie iciness at its core." In addition to the Nicholas Roerich Poetry Prize, Williamson has received an Academy Award in Literature from the American Academy of Arts and Letters, the Whiting Award, the Nathan Haskell Dole Prize, a grant from the National Endowment for the Arts, and a John Atherton Fellowship. He currently teaches in the Writing Seminars at the Johns Hopkins University.
Other poems by Greg Williamson in Verse Daily:
November 28, 2002: The Birdhouse "During that cold snap, frost..."
Books by Greg Williamson:

Other poems on the web by Greg Williamson:
Ten poems
Two poems
"Binocular Diplopia"
"Origami"
Greg Williamson According to Wikipedia.
About Able Muse:

Subscription: 1yr, $34
Able Muse Review * 467 Saratoga Avenue, #602 * San Jose, CA 95129
Editor: Alexander Pepple
Other poems by Able Muse in Verse Daily:
Home Web Weekly Features Archives About Verse Daily FAQs Submit to Verse Daily

Copyright © 2002-2013 Verse Daily All Rights Reserved