®

Today's poem is "Self-Portrait with Quarry"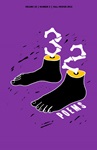 from 32 Poems
Elisabeth Murawski
is the author of Zorba's Daughter, which won the 2010 May Swenson Poetry Award, Moon and Mercury, and two chapbooks. Her publications include Yale Review, FIELD, Southern Review, and she currently resides in Alexandria, VA.
Other poems by Elisabeth Murawski in Verse Daily:
April 18, 2012: "May I?" "No buildings burning. No smoke...."
August 6, 2010: "The Other Son" "My father welcomes the prodigal...."
November 9, 2006: "voyage to the end" " I sin so much harder now..."
November 21, 2003: "Zorba's Daughter" "Night boasted it was eternity...."
Books by Elisabeth Murawski:

Other poems on the web by Elisabeth Murawski:
"That's Life"
Six poems
"The Black Madonna"
About 32 Poems:

Subscription: 1 year (2 issues), $14
32 Poems Magazine * Texas Tech University * Lubbock, TX 79409-3091
Editor: John Poch & Deborah Ager

Other poems from 32 Poems in Verse Daily:
October 16, 2013: "The Belt" by Noah Kucij
September 12, 2012: "Passion Flower" by Melissa Apperson
September 11, 2012: "Wandering Albatross" by Suzanne Zweizig
August 24, 2011: "Alley" by Jeffery L. Bahr
January 7, 2011: "Late" by Sidney Wade
January 6, 2011: "Dictator" by Melissa Stein
February 8, 2010: "Praise Nothing" by Joshua Robbins
June 25, 2009: "Bats in the Attic" by Chelsea Rathburn
June 23, 2009: "Rip Cord" by Jamie Thomas
February 22, 2009: "Bats in the Attic" by Anthony Walton
February 21, 2009: "The Pencil" by Billy Collins
April 22, 2007: "Thin Ice" by Randall Stiffler
November 30, 2005: "Cod" by David Roderick
May 16, 2005: "Bird Advice" Jill Alexander Essbaum
May 14, 2005: "Parting Shot" Brendan O'Connor
May 3, 2005: "Boat" Carol Frost
February 9, 2005: "Fabulous Ones" by Jeffrey Thomson
February 8, 2005: "Ultrasound" by A. E. Stallings
February 7, 2005: "Year of the Blues" by A. C. Schaffer
June 29, 2004: "Bonfire" by Julie Funderburk
June 28, 2004: "Ill-Made Almighty" by Heather McHugh
January 3, 2004: "Father Countries" by Geoffrey Brock
December 31, 2003: "Litany for Treetops" by C. J. Sage
July 15, 2003: "The Trouble with Being Born" by Christina Davis
July 14, 2003: "Outer Banks (II)" by Christian Wiman
July 9, 2003: "Sonnet" by Kimberly Johnson
Home Web Weekly Features Archives About Verse Daily FAQs Submit to Verse Daily

Copyright © 2002-2013 Verse Daily All Rights Reserved