®

Today's poem is "Hurricane Birds"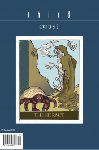 from Third Coast
dawn lonsinger
is a recent graduate of the doctoral program in Literature and Creative Writing at the University of Utah. Her poems and lyric essays have recently appeared in the American Poetry, Review, Colorado Review, Black Warrior Review, Poetry, East, and Crazyhorse. She is the author of the linoleum crop (Jeanne Duval Editions) and The Nested Object (Dancing Girl Press), and her full-length collection, Whelm (winner of the 2012 Idaho Prize for Poetry), is forthcoming from Lost Horse Press in spring 2013. She, like most living organisms, has a thing for light.
Other poems by dawn lonsinger in Verse Daily:
April 11, 2013: "[but the rain is full of ghosts tonight]" "and it has taken something from me..."
March 28, 2011: "zoo sonnet" "the veined flood did not care what the mute sang..."
April 28, 2010: "Ardentia Vera" "the ocean laps toward shore, but land puts nearly its whole..."
July 5, 2006: "Afternoon Ether" " Mold spores land on wet surfaces..."
July 22, 2005: "The Blue-Gray Body of the Zambezi" "The river is full of albescent bodies..."
Books by dawn lonsinger:

Other poems on the web by dawn lonsinger:
"Knee-Deep"
"Forage"
"Four"
Two poems
"Slow Saunter of Wither"
"Knee-Deep"
Two poems
"gray matter"
dawn lonsinger's Website.
About Third Coast:

Subscription: $16
Third Coast * Western Michigan University * English Department * 1903 W Michigan Ave. * Kalamazoo, MI 49008-5331
Poetry Editor: Krystal Howard, Glenn Shaheen
Other poems by Third Coast in Verse Daily:
November 19, 2013: "Nocturne" by Max Somers
November 18, 2013: "A Taste, With Explosions of Woody and Floral Undertones" by Katie Jean Shinkle
Home Web Weekly Features Archives About Verse Daily FAQs Submit to Verse Daily

Copyright © 2002-2013 Verse Daily All Rights Reserved