®

Today's poem is "Out of Place"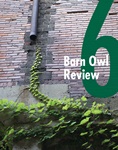 from Barn Owl Review
Claire Sylvester Smith
has recent poems appearing or forthcoming in American Poetry Review, Colorado Review, Boston Review, and Sonora Review. She is a Michener Fellow in Poetry at the University of Texas, and is the poetry editor at Bat City Review.
Other poems by Claire Sylvester Smith in Verse Daily:
July 16, 2012: "When a Man and a Woman Are Alone Together, the Third Person Present Is Satan" "The ceilings were high enough to remind us..."
Other poems on the web by Claire Sylvester Smith:
Two poems
"1776"
"What the Horizon"
"The Rule of Chamber"
About Barn Owl Review:

Subscription: 1 issue: $12
Editors-in-Chief: Mary Biddinger * Jay Robinson
Other poems by Barn Owl Review in Verse Daily:
May 23, 2012: "Epistle" by Kate Jenkins
May 22, 2012: "Frenemy" by Krystal Languell
May 21, 2012: "[ ] [ ], [ ] [ ]" by Daniela Olszewska
March 17, 2011: "Red Salmon" by David Dodd Lee
March 15, 2011: "Detachable" by Jenna Cardinale
August 29, 2010: "Too Darn Hot" by Sarah Perrier
August 26, 2010: "Worse Than The Bite" by Rebecca Givens Rolland
August 24, 2010: "Between Seasons" by Rob Schlegel
August 23, 2010: "The Claw" by Angela Vogel
March 19, 2009: "Clouds" by Jason Bredle
March 18, 2009: "How it Started" by Leslie Harrison
March 16, 2009: "Return as Black Currant" by Anna Journey
February 23, 2008: "Proposal" by Sandra Beasley
February 21, 2008: "Scientific Method" by Adam Clay
February 20, 2008: "Driving Out to Innisfree" by Matthew Thorburn
February 18, 2008: "Street Fight" by Wayne Miller