®

Today's poem is "The Rescue"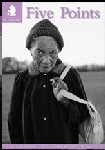 from Five Points
Chelsea Rathburn
ís second collection of poetry, A Raft of Grief, received the 2012 Autumn House Poetry Prize. Her poems have appeared in Poetry, Ploughshares, and New England Review. The recipient of a 2009 fellowship in poetry from the National Endowment for the Arts, she lives with her husband, the poet James Davis May, and their daughter in Decatur, Georgia.
Other poems by Chelsea Rathburn in Verse Daily:
March 8, 2013: "Surface Tension" "In the park, a pond aflame..."
March 29, 2011: "How it Happened" "I blame that little village in Spain..."
June 25, 2009: "Bats in the Attic" "By day, God how we hated them hanging there..."
September 10, 2006: "To a Crumbling House" " Not yet unlivable, your ceiling sags..."
Books by Chelsea Rathburn:

Other poems on the web by Chelsea Rathburn:
"What Was Left"
"Firworks"
Two Poems
"Unused Lines"
"Teaching Poetry at the School for the Blind"
"A Raft of Grief"
Chelsea Rathburn's Website.
Chelsea Rathburn on Twitter.
About Five Points:

Subscription: 1 year (3 issues), $20
Five Points * MSC 8R0318 * Georgia State University * 33 Gilmer St. S.E. Unit 8 * Atlanta, Georgia 30303-3083
Editor: David Bottoms
Other poems by Five Points in Verse Daily:
February 7, 2011: "Casals" by Gerald Stern
September 8, 2010: "Converted Church" by Medbh McGuckian
December 15, 2009: "The Opening" by Philip Schultz
May 14, 2009: "Contentment" by Jane Hirshfield
May 12, 2009: "Storm Catechism" by Kim Addonizio
November 19, 2008: "Guess Work" by Christopher Buckley
November 18, 2008: "When I Was the Muse" by Kate Daniels
November 17, 2008: "Dog & Father" by Sam Pereira
May 26, 2008: "Death by Wind" by Gerald Stern
November 11, 2007: "Disciplines" by Rumi, translated by Coleman Barks
November 7, 2007: "Heart Poem" by Mary Oliver
November 5, 2007: "Easeful Death" by Kim Addonizio
March 18, 2006: "After a Month of Rain" by Linda Pastan
October 28, 2005: "Gone" by Malena Mörling
October 27, 2005: "Fears" Rodney Jones
October 26, 2005: "Flamingo Film" Dave Smith
October 24, 2005: "October Storm" David Baker
May 8, 2005: "Riding" Robert W. Hill
May 5, 2005: "Vessel" Cecily Parks
May 2, 2005: "Heavenly" Mary Oliver
October 23, 2004: "Unsound Ship" by Medbh McGuckian
September 19, 2003: "No Shelter" by Ann Townsend
Home Web Weekly Features Archives About Verse Daily FAQs Submit to Verse Daily

Copyright © 2002-2013 Verse Daily All Rights Reserved