®

Today's poem is "Blues"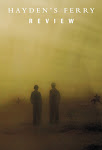 from Hayden's Ferry Review
Alice Bolin
's poetry appears or is forthcoming in Ninth Letter, FIELD, Blackbird and Washington Square, among other journals. Her nonfiction appears regularly on the arts and culture website This Recording, The Paris Review Daily and elsewhere around the Internet. She lives in Missoula, Montana.
Other poems on the web by Alice Bolin:
"Watercolor Kit"
"First Station"
"Yearbook"
Three poems
Alice Bolin on Twitter.
About Hayden's Ferry Review:

Subscription: 1 year (2 issues), $25
Hayden's Ferry Review * P.O. Box 22161 * Baltimore, MD 21203
Poetry Editors: Allyson Boggess & Kathleen Winter

Other poems from Hayden's Ferry Review in Verse Daily:
October 2, 2013: "Do Not Drive Into Smoke (The Behavioralistic Half-Century)" by Katy Chrisler
October 1, 2013: "How We Prepared for War" by Caitlin Bailey
April 9, 2013: "Dear So & So" by Beth Marzoni
April 8, 2013: "The Book of Revelation" by Sam Taylor
April 5, 2013: "Valediction Lessons: Flora" by Corey Van Landingham
August 31, 2012: "Walking Again" by Mark Jarman
February 7, 2012: "Elegy" by Heather June Gibbons
February 6, 2012: "To The Executioner" by Malachi Black
July 7, 2011: "Barefoot on the Pulpit" by Lisa Fay Coutley
July 6, 2011: "To Bear" by Mary Quade
Home Web Weekly Features Archives About Verse Daily FAQs Submit to Verse Daily

Copyright © 2002-2013 Verse Daily All Rights Reserved