®

Today's poem is "This Is What It Feels Like When I'm Telling the Truth"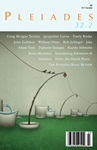 from Pleiades
Kent Shaw
's poems have appeared in Green Mountains Review, Beloit Poetry Journal, Best New Poets, and elsewhere.
Other poems by Kent Shaw in Verse Daily:
Books by Kent Shaw:

Other poems on the web by Kent Shaw:
"I Know Hephaestus, Itís Tough Loving Love"
"Why you canít build a city quite fast enough"
"Spoon, or A convenient place setting"
Two poems
Kent Shaw's Website.
Kent Shaw According to Wikipedia.
Kent Shaw on Twitter.
About Pleiades:

Subscription: $16
Pleaides: A Journal of New Writing * Department of English * Central Missouri State University * Warrensburg, MO 64093 Editor: Kathryn Nuernberger

Other poems from Pleiades in Verse Daily:
July 9, 2012: "The Buzzard and Reversal" by Michael Bazzett
February 15, 2012: "Body of Moving and Light" by Peter Streckfus
February 13, 2012: "A Prisoner of Things" by Alan Michael Parker
September 7, 2011: "Camera Lucida" by Joshua Diamond
September 6, 2011: "Like a Machine, Struggle for Mother" by Andrea Baker
September 1, 2011 "Arrows" by Bruce Bond
March 10, 2011: "Elegy as a Red Dress" by Victoria Chang
March 7, 2011: "Aspirin and Shadow" by Chris Forhan
March 1, 2008: "Apostasy" by Carol Quinn
June 27, 2007: "The Sunset" by Randall Mann
June 25, 2007: "There Is No Pretending" by Mary Jo Bang
February 13, 2005: "Ironwork" by Stephanie Bolster
February 12, 2005: "Afterworld" by Sophie Cabot Black
February 11, 2005: "Cruelties" by Stephen Dunn
Home Web Weekly Features Archives About Verse Daily FAQs Submit to Verse Daily

Copyright © 2002-2012 Verse Daily All Rights Reserved