®

Today's poem is "I tried to write the truth, but it made me miserable"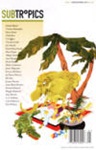 from Subtropics
Karyna McGlynn
is the author of I Have to Go Back to 1994 and Kill a Girl and several chapbooks. She is pursuing her PhD in Creative Writing and Literature at the University of Houston where she edits for linelinelineline and Gulf Coast.
Other poems by Karyna McGlynn in Verse Daily:
July 22, 2010: "I Was Using Your Mail Order Drugs" "I was using your mail order drugs...."
November 16, 2009: "I Show Up Twelve Years Late For Curfew" "I appear cold, muddy, unstable in the foyer...."
February 16, 2008: "Before Anything Happened the House Had No Skeleton" "the termites had deboned the thing..."
Books by Karyna McGlynn:

Other poems on the web by Karyna McGlynn:
Three poems
"Of All the Dead People I Know"
"Erin with the Feathered Hair"
Three poems
"The Camp River Poems"
Five poems
Two poems
Two poems
Three poems
"Cleopatra 365"
Four poems
Three poems
"Amanda at 4"
"For Colleen Found On Sunday"
"Snap-Button Lock"
Four poems
"How to Delicately Detect I Lied About the Dosing"
"Cypress Point"
"Emmett and the White Boy"
"Yellow Coffee Cup"
"Renaming the Bridesmaids"
Two poems
"Deep Eddy"
Karyna McGlynn's Website.
Karyna McGlynn According to Wikipedia.
Karyna McGlynn on Twitter.
About Subtropics:

Subscription: 1 year, $26
Subtropics * Subtropics * P.O. Box 112075 * 4008 Turlington Hall * University of Florida * Gainesville, FL 32611-2075
Poetry Editor: Sidney Wade
Other poems by Subtropics in Verse Daily:
March 31, 2011: "To the Field of Scotch Broom That Will Be Buried by the New Wing of the Mall" by Lucia Perillo
March 30, 2011: "Dear Fringe" by Erin Murphy
March 28, 2011: "zoo sonnet" by dawn lonsinger
March 27, 2011: "High Rise" by Les Murray
March 26, 2011: "The sparrows gather nearby..." by David Harris Ebenbach
October 5, 2010: "Bombing the City" by Wayne Miller
October 4, 2010: "To Whom It May Concern:" by Erika Meitner
August 20, 2009: "Green Heron" by Daniel Wolff
August 14, 2009: "If Palinurus" by Timothy O'Keefe
August 11, 2009: "Shark" by Heather Hamilton
August 10, 2009: "I Will Begin Tagging ôSad Robot Inc...." by Kate Angus
August 7, 2009: "The Reclamation of Paradise" by Stephen Kampa
April 5, 2009: "Monday" by Randall Mann
April 3, 2009: "A History in Six Couplets" by Idra Novey
April 1, 2009: "Scales of Little Wisdom" by Roberto Juarroz (translated by Mary Crow)
July 24, 2008: "Tuning Fork" by Bruce Bond
July 22, 2008: "Bicycling from Todtnauberg" by Suzanne Zweizig
Home Web Weekly Features Archives About Verse Daily FAQs Submit to Verse Daily

Copyright © 2002-2012 Verse Daily All Rights Reserved