®

Today's poem is "Lightweights"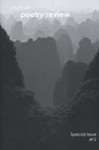 from Southern Poetry Review
Jeff Hardin
Columbia, TN. Fall Sanctuary (Story Line Press, 2005). Gettysburg Review, Hudson Review, North American Review, Ploughshares, Poetry Northwest, Potomac Review, Southern Review, and elsewhere.
Other poems by Jeff Hardin in Verse Daily:
August 27, 2009: "Lightweights" "Even in these hostile times..."
June 17, 2003: "Choir" "Voices blend and bring us back from other..."
November 1, 2002: "Summons" Word comes today along the lengths of rain..."
August 3, 2002: "Trying to Get Near One Another" "While you are sleeping, a family of ducks / courses along the stream..."
Books by Jeff Hardin:

Other poems on the web by Jeff Hardin:
Two poems
Two poems
Four poems
"Morning and Night"
About Southern Poetry Review:

Subscription: 1 year (2 issues), $12
Southern Poetry Review * Dept. of Languages, Literature and Philosophy * Armstrong Atlantic State University * 11935 Abercorn Street * Savannah, Georgia 31419-1997
Editor: Robert Parham
Other poems by Southern Poetry Review in Verse Daily:
March 13, 2010: "Woodpecker" by Harry Bauld
August 19, 2009: "Ebb" by Martha Zweig
August 18, 2009: "Lightweights" by Jeff Hardin
August 13, 2009: "Lifeguards" by William Greenway
March 2, 2009: "Jellyfish" by George David Clark
January 15, 2009: "Theology" by K. A. Hays
January 13, 2009: "Bees" by Cathryn Essinger
January 12, 2009: "Gamophobia" by Patrick Ryan Frank
December 21, 2008: "Maximillian Sunflowers" by Brett DeFries
December 19, 2008: "The Dead" by Fleda Brown
December 18, 2008: "Barter" by Michael Chitwood
October 30, 2006: "Revival" by Jeannette Barnes
October 25, 2006: "Trillium" by Fleda Brown
Home Web Weekly Features Archives About Verse Daily FAQs Submit to Verse Daily

Copyright © 2002-2012 Verse Daily All Rights Reserved