®

Today's poem is "Match"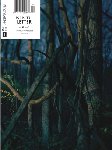 from Ninth Letter
Brynn Saito
was born in the Central Valley of California to a Korean American mother and a Japanese American father. Her first collection of poetry is forthcoming in 2013 from Red Hen Press. Brynn's poems have appeared in anthologies edited by Helen Vendler and Ishmael Reed, and such journals as Hayden's Ferry Review, Third Coast, and Pleiades.
Other poems by Brynn Saito in Verse Daily:
December 2, 2009: "Trembling on the Brink of a Mesquite Tree" "And the Lord said Surprise me, so I moved to LA...."
Other poems on the web by Brynn Saito:
"The Palace of Contemplating Departure"
"17 Again"
Brynn Saito's Website.
About Ninth Letter:

Subscription: 1 year (2 issues), $21.95
Ninth Letter * University of Illinois * Department of English * 608 South Wright St. * Urbana, IL 61801
Poetry Editor: Brigit Pegeen Kelly
Other poems by Ninth Letter in Verse Daily:
August 19, 2011: "Peccadillo" by Scott Minar
July 29, 2010: "Unusable Elegy" by Zachary Harris
July 28, 2010: "Youths" by Michael Rutherglen
July 26, 2010: "Love Note" by Leslie Adrienne Miller
February 3, 2010: "Waking Up at the Wheel" by Christopher Kennedy
February 2, 2010: "Maimonides on What Is Meant by 'Vision'" by Benjamin Paloff
June 19, 2009: "A Great Whirring" by Bruce Snider
June 18, 2009: "It Is Virtually Without Thickness and Has Almost" by Angie Estes
June 16, 2009: "The Widdershins Garden" by Olivia Clare
Home Web Weekly Features Archives About Verse Daily FAQs Submit to Verse Daily

Copyright © 2002-2012 Verse Daily All Rights Reserved