®

Today's poem is "Love and Later"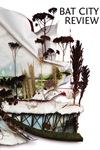 from Bat City Review
Brian Russell
holds an MFA from the University of Houston, where he served as poetry editor for GulfCoast. His manuscript, Nights under Water, has been a finalist for the Miller Williams Prize (University of Arkansas Press) and the Cleveland State Poetry Center First Book Prize. He lives in Chicago and works for a non-profit school-management organization.
Other poems on the web by Brian Russell:
Two poems
"No One in Particular"
"Crisis and Confidence"
"Romance of the Unfamiliar"
"Christmas"
"Struggle in life"
Brian Russell on Twitter.
About Bat City Review:

Subscription: 2 issues, $14
Bat City Review: Subscriptions * Department of English * The University of Texas at Austin * 1 University Station B5000 * Austin, TX 78712
Poetry Editor: Carolina Ebeid

Other poems by Bat City Review in Verse Daily:
October 21, 2009: "Beat the Ranger" by Christopher DeWeese
October 18, 2009: "The Multiple States of Matter" by Jenny Browne
October 15, 2009: "From As Complete As a Thought Can Be" by Adam Clay
October 12, 2009: "A Cast of a Smokestack" by Adam Atkinson
June 7, 2007: "Fugue" by Jibade-Khalil Huffman
June 4, 2007: "Fugue" by Thomas Kane
May 24, 2006: "Lovetown" by Bryan Penberthy
May 18, 2006: "Funeral, Mineral, Vegetable" by Jibade-Khalil Huffman
May 15, 2006: "Starling" by Dorianne Laux
September 15, 2005: "Addendum" by Andrew Osborn
September 14, 2005: "Loosely Related Sheep"" Larissa Szporluk
September 12, 2005: "Smatches"" Bill Knott
Home Web Weekly Features Archives About Verse Daily FAQs Submit to Verse Daily

Copyright © 2002-2012 Verse Daily All Rights Reserved