®

Today's poem is "Albert the Pig Speaks"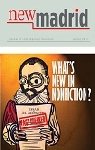 from New Madrid
Adam Day
is the recipient of a 2010 PSA Chapbook Fellowship for Badger, Apocrypha, and the recipient of a 2011 PEN Emerging Writers Award. His work has appeared in the Boston Review, APR, Poetry London, AGNI, The Iowa Review, Poetry Ireland Review, The Kenyon Review, Guernica, London Magazine, and elsewhere. Day coordinates The Baltic Writing Residency, is an advisory editor for the literary and comics journal Catch Up, and is currently writer-in-residence at Earlham College.
Other poems by Adam Day in Verse Daily:
December 11, 2012: "Mother's Hair" "Sometimes father cut her..."
March 28, 2009: "The Cow" "There I was, snagged in barbed-wire..."
Other poems on the web by Adam Day:
Two poems
Three poems
Two poems
Two poems
"Accident"
"Guys Like Us"
"Father Benides"
"The Gods Describe Building Bodies, Like Badger's"
Nine poems
Four poems
"The Leaving"
"The Gods Describe Building Bodies, like Badger's"
Two poems
About New Madrid:

Subscription: 1 year (2 issues), $15
New Madrid * Department of English and Philosophy * Murray State University * 7C Faculty Hall * Murray KY 42071-3341
Editor: Ann Neelon
Other poems by New Madrid in Verse Daily:
December 11, 2012: "Mother's Hair" by Adam Day
February 12, 2012: "Ode to Ink" by Lee Upton
August 30, 2010: "The Incredible Shrinking Fool" by William Trowbridge
March 14, 2010: "The Leisure Class" by Robert Avery
February 4, 2010: "Because the Body is Made of Water" by Ephraim Scott Sommers
February 27, 2009: "Intelligent Design" by Richard Cecil
September 24, 2008: "My Lives" by Al Maginnes
Home Web Weekly Features Archives About Verse Daily FAQs Submit to Verse Daily

Copyright © 2002-2012 Verse Daily All Rights Reserved