®

Today's poem is "Elegy as a Red Dress"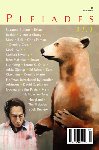 from Pleiades
Victoria Chang
's most recent book is Salvinia Molesta (University of Georgia Press, 2008)
All the poems by Victoria Chang that have appeared on Verse Daily:
January 9, 2010: "Elegy as Spot's Lift-the-Flap Book" "Spot is under the flap. Tom is..."
August 26, 2009: "Dear P. XII" "When you fall onto the floor, your cry..."
June 15, 2008: "The End" "The end of ambition..."
April 28, 2006: "The Professor's Lover" " Dogs barking, wind blowing, how I never get..."
January 18, 2005: "To Want" "To wait is to want more...."
Books by Victoria Chang:

Other poems on the web by Victoria Chang:
"Elegy as a Strand of Hair"
"Pete"
"Seven Reasons for Divorce"
"The Guests"
Three poems
"Edward Hopper Study: Hotel Room"
"Love Poem as Eye Examination"
Victoria Chang's Blog.
Victoria Chang's Home Page.
About Pleiades:

Subscription: $16
Pleaides: A Journal of New Writing * Department of English * Central Missouri State University * Warrensburg, MO 64093 Editor: Kevin Prufer * Wayne Miller

Other poems from Pleiades in Verse Daily:
March 7, 2011: "Aspirin and Shadow" by Chris Forhan
March 1, 2008: "Apostasy" by Carol Quinn
June 27, 2007: "The Sunset" by Randall Mann
June 25, 2007: "There Is No Pretending" by Mary Jo Bang
February 13, 2005: "Ironwork" by Stephanie Bolster
February 12, 2005: "Afterworld" by Sophie Cabot Black
February 11, 2005: "Cruelties" by Stephen Dunn
Home Web Weekly Features Archives About Verse Daily FAQs Submit to Verse Daily

Copyright © 2002-2011 Verse Daily All Rights Reserved