®

Today's poem is "A Report"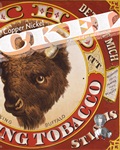 from Copper Nickel
Steve Langan
is the author of Freezing, Notes on Exile and Other Poems andMeet Me at the Happy Bar. He lives in Omaha and teaches at the University of Nebraska in the MFA writing program.
Other poems by Steve Langan in Verse Daily:
October 18, 2002: "Epithalamium" "We were down to change, walking...."
Books by Steve Langan:

Other poems on the web by Steve Langan:
Four poems
Three poems
Two poems
Four poems
Steve Langan on Twitter.
About Copper Nickel:

Subscription: 1 year (2 issues), $20
Copper Nickel * Campus Box 175 * P O Box 173364 * Denver CO 80217-3364
Editor: Brian Barker * Nicky Beer * Teague Bohlen * Jennifer S. Davis * Jake Adam York
Other poems by Copper Nickel in Verse Daily:
March 14, 2011: "Sometimes a woman sets off alarms" by Anna Journey
November 29, 2010: "Thirst" by Jennie Wrisley
November 26, 2010: "Lobster" by Matthew Minicucci
February 28, 2010: "A Whipsaw Takes Two Men" by Patricia Lockwood
February 25, 2010: "Blót" by A. E. Watkins
February 20, 2010: "Contrast" by Jericho Brown
February 16, 2010: "No Narrative" by A. E. Watkins
November 11, 2009: "Wedding Piñata" by James Hoch
November 10, 2009: "Stray Paragraphs, February, Year of the Rat" by John Estes
November 8, 2009: "Evasion of Privacy" by Jordan Davis
November 6, 2009: "The Interior Weather of Tree-Clinging Birds" by Sandy Longhorn
Home Web Weekly Features Archives About Verse Daily FAQs Submit to Verse Daily

Copyright © 2002-2011 Verse Daily All Rights Reserved