®

Today's poem is "Marriage"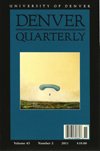 from Denver Quarterly
Sara Michas-Martin
lives in San Francisco and teaches creative writing at Stanford and Goddard College. Recent poems have appeared or are forthcoming in The American Poetry Review, The Believer, Harp & Altar, Harvard Review, Indiana Review, jubilat, and elsewhere.
Other poems on the web by Sara Michas-Martin:
"Cotardís Syndrome"
"Ars Poetica"
"Cage"
"What to Name This"
"Spoilsong"
Sara Michas-Martin's Website.
About Denver Quarterly:

Subscription: 1 year (4 issues), $20
Denver Quarterly * University of Denver Department of English 2000 E Asbury Denver, CO 80208
Editor: Bin Ramke

Other poems from Denver Quarterly in Verse Daily:
August 20, 2010: "Intersection" by Wendy Videlock
August 17, 2010: "Summer Meadow in Gotland" by Joan Colby
August 16, 2010: "The Naturalist's Last Love Poem" by Ashley Anna McHugh
April 17, 2009: "Sand" by Bruce Bond
April 15, 2009: "On Finally Blaming Myself a Little Finally" by Maggie Glover
April 14, 2009: "Missed Connections" by Sherman Alexie
May 6, 2007: "The Tightrope Walker" by Lesley Dauer
May 5, 2007: "The Fox Explains The Dream of Foxes" by Hannah Craig
April 7, 2006: "Me, The Wife: Versions of Medusa" by Lynnell Edwards
April 4, 2006: "Palinurus" by A.E. Stallings
September 22, 2005: "Capturing a Plum Blossom" by John Pursley III
September 21, 2005: "eBay Sonnets" Denise Duhamel
September 19, 2005: "Would-Be Pastoral Elegy" Gail White
February 4, 2005: "Church" by Megan Snyder-Camp
February 3, 2005: "Translation" by Robert Morgan
February 2, 2005: "Second Bearing, 1919" by Claudia Emerson
January 31, 2005: "Heat Lightning" by Ted Kooser
August 30, 2004: "Without Mythologies" by Henry Weinfield
August 29, 2004: "Fifty-Fifty" by Patricia Clark
August 23, 2004: "Olivia Between Acts" by Stuart Lishan
August 21, 2004: "Garden" by Theodore Worozbyt
January 8, 2004: "Missouri River" by Lawrence Revard
January 7, 2004: "Pontoon Pantoum #505" by Kathy Fagan
January 5, 2004: "The Fool Card" by Annie Finch
July 30, 2003: "The Fruit Thereof" by William Wenthe
July 29, 2003: "Slow Leak" by Ellen Doré Watson
July 28, 2003: "Poor Excuses" by Andi Werblin
December 1, 2002: Squirrel Hunting by Edmund August
November 30, 2002: 49 Views of Childhood by Bin Ramke
November 28, 2002: The Birdhouse by Greg Williamson
November 26, 2002: A Letter from Mama (1916-1999) by Marilyn Nelson
Home Web Weekly Features Archives About Verse Daily FAQs Submit to Verse Daily

Copyright © 2002-2011 Verse Daily All Rights Reserved