®

Today's poem is "How Shedding Feathers Taught The Children to Make a Kite, and What the Kite Taught Everyone"
from Story Problems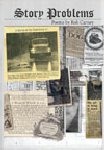 Rob Carney
grew up in Washington state and received a BA in English from Pacific Lutheran University, an MFA: Poetry from Eastern Washington University, and a PhD from the University of Louisiana-Lafayette. He is the author of two previous collections—Weather Report (Somondoco, 2006) and Boasts, Toasts, and Ghosts, winner of the 2002 Pinyon Press National Poetry Book Contest—and two chapbooks, New Fables, Old Songs, winner of the 2002 Dream Horse Press National Chapbook Competition, and This Is One Sexy Planet, winner of the Annual Frank Cat Press Poetry Chapbook Award in 2005. His work has appeared in Atlanta Review, Harpur Palate, Mid-American Review, Quarterly West, Redactions: Poetry & Poetics, River Styx, Sugar House Review, and dozens of other journals, as well as Flash Fiction Forward (W.W. Norton, 2006). He is a Professor of English and Literature at Utah Valley University and lives in Salt Lake City.
Other poems by Rob Carney in Verse Daily:
January 14, 2003: "More Than Ashes to Ashes, Not Just Dust to Dust" " In the Old Songs about Washington, if a fisherman drowned..."
Books by Rob Carney:

Other poems on the web by Rob Carney:
Three poems
About Story Problems:
"Story Problems is a Carnival that Just Came to Our Town, and Rob Carney is the barker, the shill, the ringmaster, the strongman, the aerialist, and the fortune teller, and he even takes the teckers at the door of the tent. He is a contemporary fabulist, a maker of new myth, a teller of tales, most of them visionary and full of wonder, prayer, and praise; but some of them may have darker undertones, like his 'Fables of Faubus.' Always in this book, there is a wild inventiveness, like someone just working up to the world and giving everything in it, object by object, creature by creature, a new name."
—Richard Garcia
"Divine Banter and Holy Play have Rob Carney's poetry alive and thriving. The insistent innocence in this book's tone brings sheer wonder into exaltation ('the best peach I've ever eaten'), imagination ('the penguin wants to be an astronaut'), and political history (as in 'Fables of Faubus,' and elsewhere0. It takes a large-hearted poet to exalt in Thai beef salad ('you'll be glad you've got a mouth') only after roasting the government for its double-speaking about hunger as 'food insecurity.' The collection's full of direct address: 'If the sky doesn't clear, you might have the company of snow.' Carney's gift is to make us believe that it really is me this time, and it really is you. His blending of the utterly beievable with the incredible makes this book a poetic wonderland."
—Maria Melendez
"Rob Carney must believe in the power of myths: the poetry that can't be explained by science, the stories with the power to change the course of our lives unexpectedly, late at night, around a crackling campfire. This is lucky for us. Like those stories, the poems in the book will make you laugh, rock back in joy, fall out of your chair in amazement and, while you're on your back recovering, wonder how we ever forgot that the night sky is full of stars."
—Scott Poole
Support Verse Daily
Sponsor Verse Daily!
Home Archives Web Weekly Features About Verse Daily FAQs Submit to Verse Daily

Copyright © 2002-2011 Verse Daily All Rights Reserved