®

Today's poem is "Dust"
from Damnatio Memoriae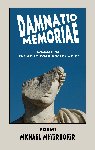 Michael Meyerhofer
grew up in Iowa where he learned the value of reading pulp novels, lifting weights, and not getting his hopes up. He attended the University of Iowa before receiving his M.F.A. from Southern Illinois University, Carbondale. He currently lives in Indiana where he teaches poetry, collects medieval weapons, and stays up late, writing politically charged letters to the editor. He also just recently published Wytchfire, a literary fantasy novel and (hopefully) the first in a series. Michael Meyerhofer's third book, Damnatio Memoriae, won the Brick Road Poetry Book Contest. His previous books are Blue Collar Eulogies (Steel Toe Books) and Leaving Iowa (winner of the Liam Rector First Book Award). He has also won five chapbook prizes. His work has appeared in Ploughshares, North American Review, Arts & Letters, River Styx, Quick Fiction and other journals.
Other poems by Michael Meyerhofer in Verse Daily:
July 21, 2011: "The Birthdays of Ex-Lovers" "How they pinball through the mind..."
March 17, 2010: "Skandha" "You nurse the origami of your theory..."
June 16, 2007: "Iconography of the Heart" " We see it haunting lockets, cards..."
October 19, 2006: "The Trouble with Hammers" " The trouble with owning hammers..."
Books by Michael Meyerhofer:

Other poems on the web by Michael Meyerhofer:
Five Poems
"Number Twenty-Five"
Two Poems
"Dust"
"Dedication"
"Poem Written For My Grandfather Talking About Suicide"
"Lilium Lophophorum"
"Portrait of a Midwestern Exile on Wheels"
"Theodote"
Three Poems
Two poems
"My Mother's Darkness"
"Grief Song"
Michael Meyerhofer's Website.
Michael Meyerhofer's Blog.
Michael Meyerhofer according to Wikipedia.
Michael Meyerhofer on Twitter.
About Damnatio Memoriae:
"Michael Meyerhofer is the master of the twist, the patron saint of lines embodying equal parts comedy and poignancy. We're lightning-struck, and it is the best kind of blessing."
—Mary Biddinger
"What could be more encouraging about the poetry scene than the fact that Michael Meyerhofer keeps on winning prizes? His artistry, breadth and humor have become our necessities."
—Djelloul Marbrook
"How can you not love a collection that contains poems like 'The World's Oldest Dildo,' 'Zen for Dummies' (in which one coed explains to another, 'that life is meaningless / but, you know, in a good way,') 'Miracle Mike,' a rooster who lived two years without his head, and 'Turritopsis Nutricola,' an immortal jellyfish? Meyerhofer's free-range imagination and romping intellect praise these and other wonders, 'all that expires under Time's watch,' with an open heart, concluding that 'This is the debt we owe // for what does not but should leave us / breathless, present, speaking in tongues.'"
—Barbara Louise Ungar
Support Verse Daily
Sponsor Verse Daily!
Home Archives Web Weekly Features About Verse Daily FAQs Submit to Verse Daily

Copyright © 2002-2011 Verse Daily All Rights Reserved