®

Today's poem is "I Don't Mind the Mess that Comes from Pressing Hard, from Scribbling Over Scribbling to Cross Things Out (But I Hate Erasable Ink)"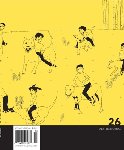 from Salt Hill Journal
Matt Mauch
grew up in small Midwestern towns between the Missouri and Mississippi rivers, in the snow and wind-chill belt. He is the author of Prayer Book (Lowbrow Press) and the chapbook The Book of Modern Prayer (Palimpsest Press). His poems have appeared in NOO Journal, DIAGRAM, The journal, Willow Springs, The Squaw Valley Review, The Los Angeles Review, Sonora Review, and elsewhere. The editor of Poetry City, USA, Volume 1 (forthcoming from Lowbrow Press), Mauch teaches writing and literature in the AFA program at Normandale Community College and coordinates the reading series there. He lives in Minneapolis.
Books by Matt Mauch:

Other poems on the web by Matt Mauch:
Four poems
"Prayer for Those Flying Solo on Jet Planes Ascending and Descending Through Turbulence Who Are Reminded of the Ghost on a Bicycle Ghost-Riding Stairs"
Two poems
"There is the Hiding, Here is the Seeking"
Matt Mauch's Website.
About Salt Hill Journal:

Subscription: 1 year (2 issues), $15
Salt Hill Journal * Syracuse University * English Department * Syracuse, NY 13244
Poety Editors: Kelinda Jones * Billy Templeton III
Other poems by Salt Hill Journal in Verse Daily:
July 22, 2010: "I Was Using Your Mail Order Drugs" by Karyna McGlynn
May 1, 2010: "Grunion" by Dore Kiesselbach
April 30, 2010: "More Precisely" by Ander Monson
September 5, 2009: "Do the Right Thing" by Adrian Matejka
June 10, 2009: "After All This" by Richard Jackson
June 8, 2009: "Surrender" by Dorianne Laux
November 13, 2008: from "All the Purple Deer" by Christopher Shipman
November 12, 2008: "Andalusia" by Matthew Rohrer
November 11, 2008: "Every Will Builds Itself a Satellite" by Chris Tonelli
Home Web Weekly Features Archives About Verse Daily FAQs Submit to Verse Daily

Copyright © 2002-2011 Verse Daily All Rights Reserved