®

Today's poem is "Clean"
from American Busboy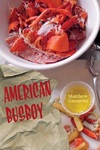 Matthew Guenette
's poems have appeared in Barn Owl Review, Anti-, New Orleans Review, Quarterly West, and The National Poetry Review. He lives and works in Madison, WI., and is the author of Sudden Anthem.
Other poems by Matthew Guenette in Verse Daily:
August 23, 2011 "Dog Days" "It was so hot..."
February 26, 2010: "(it was so hot...)" "It was so hot..."
July 3, 2008: "Vortex: The Super-Sized Supermarket" "...I've been elbowed in the ribs, made to ask..."
April 8, 2008: "Christina Aguilera has a blue" "Christina Aguilera has a blue..."
Books by Matthew Guenette:

"Ten Poems on Marriage Plus a Wish"
"Future Poem"
Three poems
"Playing Poker with the Gods"
"Nickname Letter"
Matthew Guenette's Blog.
About American Busboy:
"When Matthew Guenette says your mother is a busboy, it sounds like an insult. When he says Jesus is a busboy, it sounds like a prayer. But aren't we all busboys? Aren't we all essential to the hum of daily life? Aren't we all unsung? Don't we all put cornstarch in our polyester pants to keep from getting a butt rash? The next time you're chowing down at The Clam Shack! and some pimply teenager or schoolteacher working a second job staggers by with a trayful of dirty dishes, you'll remember these ballsy, all-American poems and think, poetry in motion."
—David Kirby
"With no apologies and with no mercy, but with an electrifying degree of lyric energy, Matthew Guenette brings the mindset of a stifled serving class to life in American Busboy. In this book's world, 'the restaurant /never asked you to /imagine imaginary /things like the brittle /?bones of onion rings.' Instead, a manager sticks his hand first in the breader, then the Frialator, just to prove a point; on another night, a middle-aged waitress gets taken home via a dirt road. 'The restaurant needed /?a spanking all morning,' is the brassy declaration of 'National Ice Cream Sandwich Day,' '& would need a good spanking /all summer long.' Using irreverent humor, clever lineation, formal invention, and alliteration worthy of Chaucer, American Busboy cuts to the front of the line for the attention of any lover of fresh, funny—yet movingly vulnerable—contemporary poetry."
—Sandra Beasley
"Matthew Guenette's funky, funny collection, American Busboy, isn't about 'the flawed /democracy of lobster tanks,' but it could be if the lobsters were replaced with grumbling busboys and the tank was exchanged for The Clam Shack!, a restaurant that 'drags its tired butt, but /never shuts its smack-talk mouth.' In these incisive poems, untouchable waitresses step on the heads of busboys while cultural luminaries like Dorothy, Rilke, and Al Pacino revel in their own busboy aspirations. Through Guenette's adroit and surprising verse, social critique and quixotic imagery do a double team, and when the main busser dozens us by saying 'Your mother was a busboy,' the call-out is complete. We are all complicit in busboy democracy, whether we want to be or not."
—Adrian Matejka
Support Verse Daily
Sponsor Verse Daily!
Home Archives Web Weekly Features About Verse Daily FAQs Submit to Verse Daily

Copyright © 2002-2011 Verse Daily All Rights Reserved