®

Today's poem is "First, Hunger"
from Covet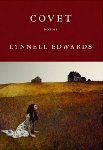 Lynnell Edwards
is the author of three collections of poetry, Covet (2012), The Highwayman's Wife (2007) and The Farmer's Daughter (2003), all from Red Hen Press. Her book reviews and short fiction have been published nationally in such journals as Pleiades, The Hollins Critic, Connecticut Review, American Book Review, and New Madrid. She is Associate Professor of English at Spalding University in Louisville, Kentucky. She also writes a books column for Louisville Magazine and is Board member of InKY, inc. sponsor of the monthly literary reading series InKY, which she co-produces.
Other poems by Lynnell Edwards in Verse Daily:
May 19, 2007: "Planting Dahlias with a Pick-Ax" " I have made their grave..."
April 7, 2006: "Me, The Wife: Versions of Medusa" " One day it will come to this..."
Books by Lynnell Edwards:

Other poems on the web by Lynnell Edwards:
"Easter Monday"
"Workshop Poem; or, Sorry, Austin"
"To Rake Leaves"
"August Heat"
About Covet:
"Lynnell Edwards's third poetry collection, Covet, is a fascinating, wide-ranging examination of desire. From the small and antique—a "Tinderbox Chamberstick w/Flint and Cover," say, to the middle distance of "Available Light" and everyday life, to the wild freedom of turkey vultures "soaring / each spring over Pine Mountain," her poems are witty, lyrical, commonsensical, and marvelously bold. This is a book worth coveting."
—Kelly Cherry
"Lynnell Edwards' new collection of finely wrought poems invites us to join her pacing the quotidian, where the objects and furniture of other peoples' lives can be as covetous as ghosts. Here we find ourselves settled and unsettled, able to touch the absence in the passages of joy. Such things as coyotes and domestic life are faced with wry humor and a "salted grace, " and an age-dulled prism becomes a "lost slipper of light." This fine poet's ability to "see into the life of things," as Wordsworth put it, makes her third book a quiet revelation and a necessary read."
—David Mason
"Great beauty, these poems understand, often steals in unexpectedly--the bird through the window, the forsythia that erupts out of a wintry landscape. Again and again we encounter here "the breath of the ecstatic", hearts "filled to bursting" "rush[ing] and skip[ping," "thumping in [their] box[es]." Edwards knows how quickly the visions she seeks to capture fade to "ordinary pain." The trick--one these lovely poems manage over and over--is to be the camera "shutter's click and whir, imperceptible / as hummingbird's wings." I finished these poems grateful for their acts of thievery, their coveting. What a beautiful and accomplished book."
—Davis McCombs
"Sometimes miracles happen: a gifted, already accomplished young poet puts away her poems for years, even decades, and then the poems begin to pour forth again--tumultuous, wild with poetry's particular fever (the Russians call it Nightingale Fever.) But, but, sometimes-- tempered by a rich inner life, fed by wisdom and knowledge one gets walking up and down upon the earth with all of one's senses fully alert, tempered by years of caring for others-- sometimes, this fever can turn into art, as it has here, in poem after poem. This combination: a crazy young poet and a grown-up (still a little bit crazy) poet makes a rare and astonishing first book, which is more like a seventh or eight book! As aforementioned: it's a kind of miracle, I tell you, a kind of miracle!"
—Kim Dower
Support Verse Daily
Sponsor Verse Daily!
Home Archives Web Weekly Features About Verse Daily FAQs Submit to Verse Daily

Copyright © 2002-2011 Verse Daily All Rights Reserved