®

Today's poem is "Love, the English Teacher"
from Brief Term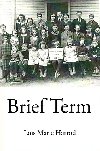 Black Buzzard Press
Lois Marie Harrod
has taught and written during many brief terms. Her chapbook Cosmogony won the Hazel Lipa Chapbook Contest (Iowa State University) and her Furniture won the 2008 Grayson Press Poetry Prize. Previous publications include the chapbook Firmament (2007); the chapbook Put Your Sorry Side Out (2005); Spelling the World Backward (2000); the chapbook This Is a Story You Already Know (1999); Part of the Deeper Sea (1997); the chapbook Green Snake Riding (1994), Crazy Alice (1991) Every Twinge a Verdict (1987). She won her third poetry fellowship from the New Jersey Council on the Arts in 2003. Over 400 of her poems have appeared in journals including American Poetry Review, Blueline, The MacGuffin, Salt, The Literary Review, Zone 3. She teaches Creative Writing at The College of New Jersey.
Other poems by Lois Marie Harrod in Verse Daily:
April 16, 2006: "Walt Whitman's Sermon on Spirituality to a Certain Congregation of Worms" " Open your mouth to the cease that surrounds..."
September 27, 2004: "Voltages for Different Locations" "And I began to think of my heart as a ferris wheel..."
Books by Lois Marie Harrod:

Other poems on the web by Lois Marie Harrod:
Five poems
"Stuck in an Elevator with Medea"
"The Naked Man in the Glass Elevator"
"Lunch at Lakewood Middle School"
"How Marlene Mae Longs for Truth"
Two poems
"The Shadow of a Crow"
"Lucky Seven"
Lois Marie Harrod's Home Page.
Lois Marie Harrod on Twitter.
About Brief Term:
"Funny, wrenching, and compassionate, often wildly imaginative and full of wordplay, these poems show us the bewildering intersection of lives and histories that is a high school classroom. Lois Marie Harrod's great skill in creating from her rich experience as poet and teacher a wide range of voices--especially those of teenage students and the imaginary teacher Alice Ann--makes Brief Term a truly rewarding collection."
—Judy Rowe Michaels
"Lois Marie Harrod's latest collection Brief Term gives us quick studies of the classroom, depicting the joys and limitations of teaching high school. Stunning, marvelously honest, Harrod's elegies and odes burnish with compassion and wisdom. Her dedication to poetry and education is apparent in every gorgeous line."
—Denise Duhamel
"This book will take you on a roller coaster of life in the classroom crucible, slowly climbing the steep stuff, gasping, getting big views, then tumbling, roaring down, almost in free fall, executing turns that defy physics. The pages turn as you pummel through the tunnel of dark love and the Poet takes you off the fixed track of narrative, sometimes leaving the rails, but not the third rail. But read on, dear reader, for you are the fortunate, willing, wily, complicit passenger in this ride, as a former student and sometime teacher yourself."
—Scott McVay
Support Verse Daily
Sponsor Verse Daily!
Home Archives Web Weekly Features About Verse Daily FAQs Submit to Verse Daily

Copyright © 2002-2011 Verse Daily All Rights Reserved