®

Today's poem is "A Sunday to Her Liking"
from Gulls Hold Up the Sky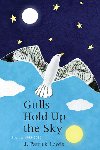 J. Patrick Lewis
earned his Ph.D. in Economics at The Ohio State University (1974) and taught at Otterbein College in Westerville, Ohio until 1998. He has published extensively in the field of Economics. His articles and reviews have appeared in numerous academic journals, as well as The Nation, Technology Review, The Progressive, Chicago Tribune, San Francisco Chronicle, Cleveland Plain Dealer, and other newspapers and magazines. He has had seven short stories and over ninety poems published in literary journals. In 1991 he was awarded an Ohio Arts Council Individual Artist Grant for his adult poetry.
Books by J. Patrick Lewis:

Other poems on the web by J. Patrick Lewis:
Three poems
Nine poems
"Everything Is a Poem"
"I'm Learning to Speak English"
"The Reason for Rainbows"
"A Swing And A Miss"
"Father Time is Coming"
"Telephone Chat"
"When Can We Leave?"
"Break"
"Juneau Spring"
"How It Will Happen, When"
J. Patrick Lewis According to Wikipedia.
About Gulls Hold Up the Sky:
"J. Patrick Lewis's metaphors are both polished and raw, thought out and yet sprung full blown from an imagination as rich as any ancient storyteller's. A marten is 'the turncoat/of violent mouth hungering for small/excellencies,' its prey 'scarlet entertainments.' His mother's life nailed: 'She was trying to kiss him/and hold the camera still and bring forth/something human out of bitterness.' And bits of smart wisdoms (the two don't always hang together) like: 'could have been your epitaph if it had not become your albatross.' And historical poems—some rhymed, some unrhymed—as in the calligraphy of saints he calls 'Ecstatics' with St. Joseph of Copertino 'goofy as a mayfly.' And of one woman in the New Orleans Ninth Ward after the hurricane and flood, he states, 'Her miracle went to a passerby.' In almost the next breath he will have you giggling about the fight between Hemingway and Max Eastman, or writing: 'Alice Munro/Does for short stories/What Rubik/Did for a cube. . .' If you do not know his name yet—you will. But first, oh first, know his sharp, observant, rich, tapestried poems."
—Jane Yolen
"Gulls Hold Up the Sky is a smashing collection of light verse and arresting poetry. If J. Patrick Lewis's fame as a poet for the young has distracted notice from the broad sweep of his talent, this overdue gathering for adults should come as an eye-opener. Affectionate recollections of family, vivid glimpses of life in Russia (which the poet knows well), and surprising verbal pranks all keep us alert, wondering what will come next. With bracing wit, tremendous skill, and generous feeling, Lewis proves himself a poet for all ages, and—who knows?—maybe for the ages as well."
—X.J. Kennedy
Support Verse Daily
Sponsor Verse Daily!
Home Archives Web Weekly Features About Verse Daily FAQs Submit to Verse Daily

Copyright © 2002-2011 Verse Daily All Rights Reserved