®

Today's poem is "Outage"
from The Hundred Fathom Curve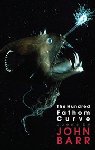 John Barr
's have appeared in many magazines, and have been published in six collections: The War Zone (1989), Natural Wonders (1991), The Dial Painters (1994), Centennial Suite (1998), all by Warwick Press; and The Hundred Fathom Curve (1997), and Grace (1999), by Story Line Press. Barr is Board President Emeritus of the Poetry Society of America, has taught in the Graduate Writing Program of Sarah Lawrence College, and was appointed in 2004 the first president of The Poetry Foundation, publisher of Poetry magazine.
Books by John Barr:

About The Hundred Fathom Curve:
"The Hundred Fathom Curve refers to the mariners' soundings that mark the descent of the continental shelf. It can also denote the soundings of a man's life as he leave the comparatively safe shallows of the world he knows to explore the deeper reaches of more challenging unknowns. The most notable of John Barr's four sections, Articles of War, recalls the poet's combat experience as a young naval officer off Vietnam. Other soundings encompass his diverse experiences as city-man and countryman, banker and sailor, fisherman, gardener and knowledgeable amateur scientist. It is chiefly as an observer of nature and of the evolving American scene that this collection will appeal to readers who look to poetry for a sustained exploration of experience. Outstanding among these verbal adventures are an opening sequence on 9/11 and, in the final section, 'The Dial Painters,' 'Going into the Wilderness,' the imaginative 'Exploring the Pastime Reaches and Beyond', and a fine concluding poem, 'Restoration.'"
—Anne Stevenson
"I take my poetry seriously—which means I don't have a lot of patience with things that are not poems. These are real poems, with a fine sense of how the words and rhythms can work to produce the kind of pressure, and vivid sense of experience, that they communicate…some of what Henry James called 'the real thing.'"
—Neil L. Rudenstine
"John Barr is a poet of elegant saying rather than singing, and his subjects are the familiar guiding stars of our common life: love, its presence or absence; war; the physical world and, especially, as in the quiet but profound requiem 'The Dial Painters,' the investigative empathy toward others that keeps us civilized. Still, in these precise and thoughtful meditations, the music of spontaneity and rejoicing – that is of course behind everything – must from time to time break out: 'I live in a settlement of two hundred bones,' he writes of himself; or remembers his father, with his ham radios, wanting to 'travel in the company of life'; or, with delicious humor, imagines the yard wisteria 'Offspring of wistful and hysteria.' These are poems to read more than once; John Barr is excellent company at every visit. He is in fact an extraordinary man, both a poet of passion and the most delicate workmanship, and a man of the material world, especially the world of finance and diplomacy—where, I dare say, passion and delicate workmanship are also necessities. We, who honor literature, also live in the world—and it is to our betterment twice, then, that John Barr's excitement, exactitude, and caring are so large and devotional—thus he twice renders the world good service, including, in his poems for sure, much pleasure, good thought, and happiness."
—Mary Oliver
Support Verse Daily
Sponsor Verse Daily!
Home Archives Web Weekly Features About Verse Daily FAQs Submit to Verse Daily

Copyright © 2002-2011 Verse Daily All Rights Reserved