®

Today's poem is "Navigating by the Light of a Minor Planet"
from The Insomniac's Weather Report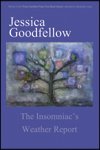 Jessica Goodfellow
grew up in the suburbs of Philadelphia, Pennsylvania, but has spent the last twenty years in constant flux between Japan and the United States. She received an MS degree from the California Institute of Technology. She has been employed variously as a teacher of both math and ESL, a financial analyst, a technical writer, a proofreader and an editor, currently working freelance as the last three. Her poetry chapbook, A Pilgrim's Guide to Chaos in the Heartland, won the Concrete Wolf Chapbook Competition. Her work has appeared in the anthology Best New Poets 2006, on the website Verse Daily, and has been featured on NPR's "The Writer's Almanac". She was a recipient of the Chad Walsh Poetry Prize from the Beloit Poetry Journal, and her work has been honored with the Linda Julian Essay Award as well as the Sue Lile Inman Fiction Prize, both from the Emrys Foundation. She is a four-time Pushcart Prize nominee. Jessica currently lives in Japan with her husband and sons.
Other poems by Jessica Goodfellow in Verse Daily:
December 8, 2008: ": Shadow : Dwelling : " "Dwelling in a foreign land. Time is the only familiar..."
January 25, 2007: "Road Trip" " Because the horizon is not a number line..."
March 30, 2006: "What You See If You Use Water as a Mirror" " In Shinto, the eight elements..."
Books by Jessica Goodfellow:

Other poems on the web by Jessica Goodfellow:
": glass : trap :"
Four poems
"How to Find a Missing Father in a Town that Isn't There"
": rules : wind :"
"November Nocturne"
"The Beach at Big Salt"
": Map : Glass : "
": Form : Shadow :"
"Poem for My Friends"
"In Praise of Imperfect Love"
"Advanced Alchemy"
Jessica Goodfellow's Home Page.
Jessica Goodfellow on Twitter.
About The Insomniac's Weather Report:
"This book begins: All poems should be about water. Goodfellow follows herself, shadows herself, watches herself as if herself is herself and all else. She follows her lead: lay awake trying to say what about. Elemental everything (water, fire, earth, air, time & eternity) appears here in all of its paradoxical insistence. It's almost as if we are given the ambiguous gift of a parallel family life, a family full of mysterious strangers, smart, greedy for knowledge, adept with music & the persistence of language."
—Dara Wier
"Jessica Goodfellow's debut collection The Insomniac's Weather Report is admirably diverse in its approaches and structures and reads like 'a fugue of opposites,' integrating the scientist's persistent inquiry and the philosopher's rarefied obsessions with this poet's highly tuned and unique sensibility 'in a blaze of form and discontent'. With their keen intellect and capacity to hold ambiguity, Goodfellow's poems are most successful when their complex abstractions are grounded in the body, image, and the human. For this reader, the power of these poems inhabits that space where logic and reason fail, efforts to name and to place break apart, and chaos threatens to annihilate. This is a challenging and original debut."
—Mari L'Esperance
"To say that The Insomniac's Weather Report is exquisitely thrilling poetry doesn't begin to do it justice. Wicked and funny as an encyclopedia of unanswerable koans, elegant as a fifteenth century flowered silk kimono portraying, perhaps, 'a hinge on a hingeless door,' it is also savage—containing a hidden history of 'marriage,/ perpetual stagger of desire/ and resist'—and I found it irresistible, as will you, dear reader."
—Alicia Ostriker
"Jessica Goodfellow's poems keep secrets. This is necessary to keep her readers safe. At moments her poems are as dangerous as yellow feathers that combust in the mouth. Other times they are as precarious as umbrellas spun from glass. Always they scratch at the door of the sacred, nudge it open a crack, peer in. The world her poems reveal is the natural world revisioned, where waterfalls 'sieve body from soul' and rivers indulge in glossolalia. They tempt us with luxurious language, bid us to enter and lose ourselves in the intricate mazes that Goodfellow creates. But be careful. 'Some bodies are never recovered.'"
—Michele Battiste
Support Verse Daily
Sponsor Verse Daily!
Home Archives Web Weekly Features About Verse Daily FAQs Submit to Verse Daily

Copyright © 2002-2011 Verse Daily All Rights Reserved