®

Today's poem is "My Flimsy Crew"
from The City from Nome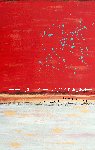 James Grinwis
' second collection, Exhibit of Forking Paths, winner of The National Poetry Series, is forthcoming from Coffee House Press. He is founder of Bateau Press, and his poems have appeared in America Poetry Review, Conjunctions, Crazyhorse, Gettysburg Review, New Orleans Review, Third Coast, Verse Daily, and many others.
Other poems by James Grinwis in Verse Daily:
April 4, 2007: "Climograph" " To be a valley inside walls...."
September 3, 2005: "Scabland" "An ointment jar glistens on the plain..."
November 24, 2002: Restlessness "My daughter comes to the field..."
Books by James Grinwis:

Other poems on the web by James Grinwis:
Three poems
Two poems
"Inupiat"
"A New Alchemy"
"Exhibit of Forking Paths"
"The Study of Small Words"
Four poems
Two poems
Three poems
"Days that Stepped on a Porcupine"
"Butterflies with Teeth"
About The City from Nome:
"I took the pill that shrinks you down. I gave the book the treatment that turns a book into a 3-dimensional self-contained universe within a universe. I climbed in and began to walk around. It took me a while to catch on. I was a little too busy being awe-struck by what I was finding. I was dazzled and struck blind every way I turned. The agencies of our imaginations have to be tended. In The City from Nome we're challenged to tune ourselves up into haunted and strange high registers."
—Dara Wier
"OK, people, I have to be honest with you. James is just too humble. He didn't suddenly "get lucky" by having two manuscripts accepted for publication within six months of each other. No. Instead, the world of poetry has finally caught on to his mad genius. And I don't use that word lightly. I like to compare reading his poems to being dragged into the ocean by your ankles. As if you are tethered to an enormous manta ray that pulls you fathoms down. Yes. You're terrified, but you can't help but notice all the eyeless flowering creatures along the way. You swerve, weightlessly, in between sea volcanoes and yes, you'll burn your cheek or perhaps finger tips, but only because you must hurt, a little, in the face of such beauty."
—Kristin Bock
"James Grinwis' The City from Nome opens with a man in a state of indecision—a man just sitting there 'with a chandelier growing out of his head.' It might have you wondering. But as you move through this book you'll see it's all here: a colossus whispers something to a colossus polisher; an ax handler laughs like a tongueless baby; a whole town has tennis elbow. At one point the speaker of a poem falls over a coffee table 'like an atonal finch,' while another confesses he 'took breaks on the floors of dark closets.' All the while an emotional frequency buzzes quietly—superbly—in the basement, which ices this cake nicely."
—Michael Earl Craig
Support Verse Daily
Sponsor Verse Daily!
Home Archives Web Weekly Features About Verse Daily FAQs Submit to Verse Daily

Copyright © 2002-2011 Verse Daily All Rights Reserved