®

Today's poem is "Dear Fringe"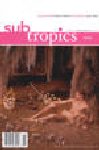 from Subtropics
Erin Murphy
's collection Word Problems is forthcoming, With Todd Davis, she is co-editor of Making Poem: Forty Poems with Commentary by the Poets. She teaches at Penn State Altoona.
Other poems by Erin Murphy in Verse Daily:
July 24, 2004: "Descartes's Lover" "What of a father for his daughter..."
Books by Erin Murphy:

Other poems on the web by Erin Murphy:
Three poems
"After 'The Boating Party'"
Three poems
Four poems
"It Sounds Like a City on a Distant Planet"
"Slow Burn"
Erin Murphy's Website.
Erin Murphy According to Wikipedia.
About Subtropics:

Subscription: 1 year, $26
Subtropics * Subtropics * P.O. Box 112075 * 4008 Turlington Hall * University of Florida * Gainesville, FL 32611-2075
Poetry Editor: Sidney Wade
Other poems by Subtropics in Verse Daily:
March 28, 2011: "zoo sonnet" by dawn lonsinger
March 26, 2011: "The sparrows gather nearby..." by David Harris Ebenbach
October 5, 2010: "Bombing the City" by Wayne Miller
October 4, 2010: "To Whom It May Concern:" by Erika Meitner
August 20, 2009: "Green Heron" by Daniel Wolff
August 14, 2009: "If Palinurus" by Timothy O'Keefe
August 11, 2009: "Shark" by Heather Hamilton
August 10, 2009: "I Will Begin Tagging "Sad Robot Inc...." by Kate Angus
August 7, 2009: "The Reclamation of Paradise" by Stephen Kampa
April 5, 2009: "Monday" by Randall Mann
April 3, 2009: "A History in Six Couplets" by Idra Novey
April 1, 2009: "Scales of Little Wisdom" by Roberto Juarroz (translated by Mary Crow)
July 24, 2008: "Tuning Fork" by Bruce Bond
July 22, 2008: "Bicycling from Todtnauberg" by Suzanne Zweizig
Home Web Weekly Features Archives About Verse Daily FAQs Submit to Verse Daily

Copyright © 2002-2011 Verse Daily All Rights Reserved