®

Today's poem is "Feral Evening"
from Possum Nocturne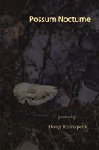 Doug Ramspeck
is the author of Black Tupelo Country, which received the 2007 John Ciardi Prize for poetry, and is published by BkMk Press. He is also the author of Where We Come From (March Street Press). In 2009 he was awarded an Ohio Arts Council Individual Excellence Award. Ramspeck directs the Writing Center and teaches at The Ohio State University at Lima. He lives with his wife, Beth, and their daughter, Lee.
Other poems by Doug Ramspeck in Verse Daily:
September 30, 2010: "Gorgeous Light" "We lived by a bay..."
July 23, 2009: "Bottomlands Tongue" "And so the burning of this sun beside the pickerelweeds..."
July 16, 2009: "Mermaid in my Fish Bowl" "I would say she was no larger..."
January 17, 2009: "Possum Nocturne" "The boy found a possum skull..."
May 17, 2008: "Late Husband" "In her dreams, then, she imagined him as feverish...."
Books by Doug Ramspeck:
Other poems on the web by Doug Ramspeck:
"Memoir"
Two poems
Six poems
"Tupelos"
"Love Theory"
Three poems
Four poems
"Smoke and Ash"
"Waterborne"
Two poems
"Ritual Cloud Line"
About Possum Nocturne:
"With Possum Nocturne, Doug Ramspeck adds his rich voice to the chorus of poetry flourishing in the heartland ranging from the American Southwest to the Midwest. He knows the names of native species—leatherleaf and buffalo bur, purple gallinule and cottonmouth—and knows the ways of their living and dying. This new poet knows his tropes and line-breaks, too, for his work shines with the burnish of rigorous craft: like Ted Kooser or John Knoepfle, Doug Ramspeck sings tight songs and tells strong stories. And like no one else he gives us the clarity of insight that grows out of alert, sympathetic living: 'We judge an hour by its / proximity to longing,' he says in 'Marsh.' I am grateful for the gifts of this fine book."
—David Baker
"Doug Ramspeck's superb collection Possum Nocturne is a study of moonlight reading the water, of ghosts whispering just out of hearing, of skulls that prophecy from dark sockets. What do these signs and totems intend for us? 'The scooped weight of memory / washing across / the hollowed fur.' Ramspeck is by turns seer, trickster, medium through the enchanted and harrowing night. I think highly of these poems, which by turns frighten and delight me. 'Land stares at you.' From the first page to the last, the poet recovers the bones from a covetous earth. Listen to them, he says. Here's how."
—Gaylord Brewer
"Vestigial, atavistic, the poems in this fine collection are wonderfully troubling. Ramspeck is a scavenger, a nocturnal one with fifty teeth and a hairless snout for rooting through our residue, our swamps, our feral evenings. Now is the hour of the possum. You won't put this book of poems down, but bring a flashlight and steel your nerves."
—Bruce Guernsey
Support Verse Daily
Sponsor Verse Daily!
Home Archives Web Weekly Features About Verse Daily FAQs Submit to Verse Daily

Copyright © 2002-2011 Verse Daily All Rights Reserved