®

Today's poem is "Aspirin and Shadow"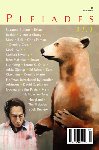 from Pleiades
Chris Forhan
is the author of three books of poetry, the most recent of which is Black Leapt In (Barrow Street, 2009).
Ute Schwartz lives in Viersen, Germany and holds a postgraduate degree in Public Health. She has worked as a medical doctor and performed extensive field research in Central America and Africa on the subject of sexual and reproductive health. In her down time, she teaches yoga, studies literature, and translates poetry.
Other poems by Chris Forhan in Verse Daily:
October 14, 2008: "Nothing to It" by Chris Forhan
October 2, 2005: "Dream: Obedience" " Some boys won't go willingly. I will...."
Books by Chris Forhan:

Other poems on the web by Chris Forhan:
"A Child's Guide to Etiquette"
Two poems
"What My Father Left Behind"
"Gouge, Adze, Rasp, Hammer"
Two poems
"Vanishing Act"
"The Church of the Backyard"
"My Almost-Daughter, My Nearly-Was Son"
About Pleiades:

Subscription: $16
Pleaides: A Journal of New Writing * Department of English * Central Missouri State University * Warrensburg, MO 64093 Editor: Kevin Prufer * Wayne Miller

Other poems from Pleiades in Verse Daily:
March 1, 2008: "Apostasy" by Carol Quinn
June 27, 2007: "The Sunset" by Randall Mann
June 25, 2007: "There Is No Pretending" by Mary Jo Bang
February 13, 2005: "Ironwork" by Stephanie Bolster
February 12, 2005: "Afterworld" by Sophie Cabot Black
February 11, 2005: "Cruelties" by Stephen Dunn
Home Web Weekly Features Archives About Verse Daily FAQs Submit to Verse Daily

Copyright © 2002-2011 Verse Daily All Rights Reserved