®

Today's poem is "Work Harder"
from ouliofso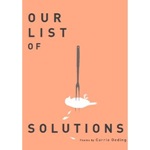 Carrie Oeding
is a native of Minnesota. She has taught at Ohio University and The University of Houston. She received her M.F.A. from Eastern Washington University and her Ph.D. from Ohio University, where she was awarded the Claude Kantner Fellowship.
Books by Carrie Oeding:

Other poems on the web by Carrie Oeding:
"Neighbor Curse"
"Stormís AíCominí"
"Poem in the Shape of a Trumpet"
"I Have Been in More Uncomfortable Situations Than This"
Carrie Oeding's Website.
About Our List of Solutions:
"We drift from one friend s barbecue to another, trading urgent small talk about chicken omelets and whether or not spiders stick to spider webs. We garden, never satisfied with what we have planted. We date people, and then we date other people, and then, alone, we kiss the backs of our own hands. And all the while we are filled with longing, seeking transcendence, some fantastic and extraordinary reprieve from our mundane reality. Dear bright autumn trees, surprise me, writes Carrie Oeding in Our List of Solutions, elsewhere exclaiming, incredulously, Wet lottery tickets littered on the walking path to work, the fingernails that pierced the apples I want to buy these dirty moons, is this all I have? The images that I m to make something lovely with. This is a startling, distinctively smart and stylish debut."
—Michael Dumanis
"If you have lost your ability to lose your way in the dance, these poems of jittery disequilibrium are just what you need. . . . [L]et s twist our ankles.//Oh dumb legs, silly pregnant music,/stupid empty space between dancing bodies that longs not to be space./ Dancing is one way to have joy . . . Can t there be something besides dancing,/or maybe can t there be something besides joy?// . . . [W]hy does music just get to be music? Blending (and transcending) both gossip and self-interrogation, the poems keep fine-tuning themselves to ever-more-precisely refute all possible modes of self-satisfaction."
—Claire Bateman
"Carrie Oeding s speakers are so compulsively social and so comically anxious and irritable in their impatient yearning that their humanity comes alive; their dithery streaming flows from loneliness, from the separateness beneath loneliness. These women wield their gestures of mistrust, scorn and disappointment as fragile, provisional defenses against their own hungry romanticism. Revealing all this is a project whereby Oeding has attained an originality rare in contemporary poetry."
—Mark Halliday
Support Verse Daily
Sponsor Verse Daily!
Home Archives Web Weekly Features About Verse Daily FAQs Submit to Verse Daily

Copyright © 2002-2011 Verse Daily All Rights Reserved