®

Today's poem is "Alarm (2)"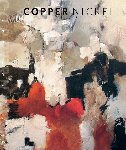 from Copper Nickel
Anna Journey
is the author of the collection, If Birds Gather Your Hair for Nesting (University of Georgia Press, 2009), selected by Thomas Lux for the National Poetry Series. Her poems are published in American Poetry Review, FIELD, Kenyon Review, and Shenandoah. Journey holds an MFA in creative writing from Virginia Commonwealth University and a PhD in creative writing and literature from the University of Houston.
Other poems by Anna Journey in Verse Daily: March 16, 2009: "Return as Black Currant" "Because she bleeds dark jelly and French liqueur..."
Books by Anna Journey:

Other poems on the web by Anna Journey:
"The Devil's Party"
Three poems
"Backwater Blues"
"The Nurse's Diagram of the Tracheotomy"
Eleven poems
"Danse Macabre, Mississippi: My Great-Grandmother Fires a BB Gun"
Four poems
Three poems
About Copper Nickel:

Subscription: 1 year (2 issues), $20
Copper Nickel * Campus Box 175 * P O Box 173364 * Denver CO 80217-3364
Editor: Brian Barker * Nicky Beer * Teague Bohlen * Jennifer S. Davis * Jake Adam York
Other poems by Copper Nickel in Verse Daily:
November 29, 2010: "Thirst" by Jennie Wrisley
November 26, 2010: "Lobster" by Matthew Minicucci
February 28, 2010: "A Whipsaw Takes Two Men" by Patricia Lockwood
February 25, 2010: "Blót" by A. E. Watkins
February 20, 2010: "Contrast" by Jericho Brown
February 16, 2010: "No Narrative" by A. E. Watkins
November 11, 2009: "Wedding Piñata" by James Hoch
November 10, 2009: "Stray Paragraphs, February, Year of the Rat" by John Estes
November 8, 2009: "Evasion of Privacy" by Jordan Davis
November 6, 2009: "The Interior Weather of Tree-Clinging Birds" by Sandy Longhorn
Home Web Weekly Features Archives About Verse Daily FAQs Submit to Verse Daily

Copyright © 2002-2011 Verse Daily All Rights Reserved