®

Today's poem is "Suppose You Were a Moray Eel"
from Lucky Fish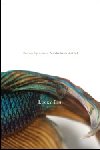 Aimee Nezhukumatathil
is also the author of Miracle Fruit (Tupelo, 2003), winner of Foreword Magazine's Poetry Book of the Year Award, and At the Drive-In Volcano (Tupelo, 2007), winner of the Balcones Prize. She has been awarded a National Endowment for the Arts fellowship and a Global Filipino Award, and she has served as faculty for the Kundiman Asian-American writers' retreat. She is an associate professor of English at the State University of New York in Fredonia.
Other poems by Aimee Nezhukumatathil in Verse Daily:
August 9, 2007: "First Anniversary, With Monkeys" " There is no crumbly frozen cake to thaw...."
October 9, 2005: "Aanabhrandhanmar Means 'Mad About Elephants'" " Forget trying to pronounce it. What matters..."
July 7, 2002: "Small Murders" "When Cleopatra received Antony on her cedarwood ship..."
Books by Aimee Nezhukumatathil:

Other poems on the web by Aimee Nezhukumatathil:
Two poems
"Hippopotomonstrosesquippedaliopho"
"Overwinter"
"At the Pumpkin Festival, My Lips Burn Bright"
Eleven poems
Three poems
"Kottayam Morning"
"Dinner With the Metrophobe"
Aimee Nezhukumatathil's Website.
Aimee Nezhukumatathil According to Wikipedia.
About Lucky Fish:
"Nezhukumatathil's third book is fascinated with the small mechanisms of being, whether natural, personal, or imagined. Everything from eating eels in the Ozark mountains to the history of red dye finds a rich life in her poems. At times her lush settings and small stories are reminiscent of fairy tales, while at others Nezhukumatathil speaks with resonance and fierceness. Even as the poems jump from the Philippines to India to New York, they still take their time, stopping to notice that 'there is no mystery on water/ greater than the absence of rust,' and to draw small but wonderful parallels."
—Publishers Weekly
"A farmer is devoured by a flower in one of the many beguiling poems of Lucky Fish. This is the sensation I often had reading Aimee Nezhukumatathil's wonderful new collection—that of being immersed in a limber intelligence. Rooted in the terrains of culture, place, and parenthood, and buoyed by inventive language that is joyous and sincere, Lucky Fish is a book of copious heart and imagination. How wonderful to watch a writer who was already among the best young poets get even better!"
—Terrance Hayes
"Aimee Nezhukumatathil's latest collection of fanciful and carefully wrought poems are once again far-reaching in geographic scope and linguistic imagination. Here is a poet willing to praise the earth, the animals, the 'mud and its confusion,' as well as the human 'sleep-sloppy mouths.' These are sensual dreamscapes of allegory and fable, but with a righteous bite and the razor sting of perception, Lucky Fish is alive with the poet writing well and passionately in a world she cares deeply about."
—Dorianne Laux
"In Lucky Fish, a reader will encounter new words used together in original ways, new perspectives wound around each other—once, twice, three times—in enlightening combinations, and new music, new sounds, new rhythms presented in a clear, searching, and engaging voice. Aimee Nezhukumatahil's poems create a captivating world of culture, family, and the earth. Enter, explore, and enjoy."
—Pattiann Rogers
"The sense of wonder in Aimee Nezhukumatathil's poetry has the quality of a cool breeze on a hot day. These poems convey affection for and passionate involvement with the world. 'I want to always know the brightness/of a gumball,' she writes, and I believe her, believe she wants and is capable of such luster, such innocence."
—Bob Hicok
Support Verse Daily
Sponsor Verse Daily!
Home Archives Web Weekly Features About Verse Daily FAQs Submit to Verse Daily

Copyright © 2002-2011 Verse Daily All Rights Reserved