®

Today's poem is "Bombing the City"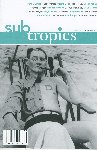 from Subtropics
Wayne Miller
is the author of The Book of Props and Only the Senses Sleep, the co-editor (with Kevin Prufer) of New European Poets, and the translator of Moikom Zeqo's I Don't Believe in Ghosts. He teaches at the University of Central Missouri, where he and Prufer edit Pleiades: A Journal of New Writing.
Other poems by Wayne Miller in Verse Daily:
June 12, 2008: "The Rescue" "All our debris above the sunken ship..."
February 18, 2008: "Street Fight" "What it was that filled me..."
November 10, 2006: "The Undressing" " See the roofs from the deck..."
Books by Wayne Miller:

Other poems on the web by Wayne Miller:
"The Problem of Landing"
"For the 20th Century"
Wayne Miller's Home Page.
About Subtropics:

Subscription: 1 year, $26
Subtropics * Subtropics * P.O. Box 112075 * 4008 Turlington Hall * University of Florida * Gainesville, FL 32611-2075
Poetry Editor: Sidney Wade
Other poems by Subtropics in Verse Daily:
October 4, 2010: "To Whom It May Concern:" by Erika Meitner
August 20, 2009: "Green Heron" by Daniel Wolff
August 14, 2009: "If Palinurus" by Timothy O'Keefe
August 11, 2009: "Shark" by Heather Hamilton
August 10, 2009: "I Will Begin Tagging ôSad Robot Inc...." by Kate Angus
August 7, 2009: "The Reclamation of Paradise" by Stephen Kampa
April 5, 2009: "Monday" by Randall Mann
April 3, 2009: "A History in Six Couplets" by Idra Novey
April 1, 2009: "Scales of Little Wisdom" by Roberto Juarroz (translated by Mary Crow)
July 24, 2008: "Tuning Fork" by Bruce Bond
July 22, 2008: "Bicycling from Todtnauberg" by Suzanne Zweizig
Home Web Weekly Features Archives About Verse Daily FAQs Submit to Verse Daily

Copyright © 2002-2010 Verse Daily All Rights Reserved