®

Today's poem is "Anatomy of the Grotesque"
from Cyborgia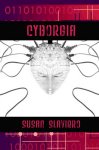 Susan Slaviero
is the author of two poetry chapbooks: An Introduction to the Archetypes (Shadowbox Press, 2008) and Apocrypha (Dancing Girl Press, 2009). Her poems have appeared in RHINO, Flyway, Fourteen Hills, Wicked Alice, Caffeine Destiny, Arsenic Lobster, and others both online and in print. Her poem 'The Noir Wife' appears in the 2008 Best of the Net Anthology. She was twice nominated for a Pushcart Prize in 2008, and she designs and edits the woman-centered literary journal blossombones.
Books by Susan Slaviero:

Other poems on the web by Susan Slaviero:
"Consider the Dangers of Reconstructing Your Wife As a Cyborg"
"Plot Device: Haunted House: Where a Window is a Scar"
Three poems
Three poems
"changelings, we"
Two poems
"Penumbra"
Three poems
"Dispel"
"Virginís Weeds"
Susan Slaviero on Twitter.
About Cyborgia:
"Cyborgia maps a "post-human," pro(to)-woman, celluloid landscape helixed with a cyber-cabinet of curiosities-animatronic bones, cyborg cowgirls, teledildonics & alien automatons. Slaviero's book is the robochild of Battlestar Galactica & Angela Carter, & equally as brilliant-full of lucent wit, imagination, intelligence & a scathing playfulness: Her poems navigate the fetishization & disassembly of female cyborgs as metaphor for the multiple violences enacted on women; and, though Cyborgia hosts fishflesh & machetes, it shimmers with shape-shifting ability, is both kinetic & kaleidoscopic in providing a transgressive space for us. I am irrevocably hooked into Slaviero's frequency & her conquering talent."
—Simone Muench
"Melding the language of sci-fi and sensuality, Cyborgia wallows delightfully in its rhythm and vocabulary, yet remains sharp and meticulous, slicing through the barriers of mechanism and the female body, of systems and viscera, where the women are filled with milk and smoke, rainwater and wristwatches, fractals and fish."
—Kristy Bowen
"'[No virus was ever this pretty.]' So ends Cyborgia, Susan Slaviero's redolent, ambitious debut. In this lyric guide to cyborg feminism-complete with robosexuality and teledildonics-Slaviero traverses traditional female tropes, including fairy-tale heroines, mermaids, and brides, twisting them into constructions of 'cold-clones' and 'flatscreen mystics.' Her poems themselves cyborgs, Slaviero's work embodies the stereotypically feminine while reeling toward posthumanism. A phantasmagoria, Cyborgia is a slightly grotesque, whip-smart collection that establishes Slaviero as a poet to watch."
—Brandi Homan
Home Web Monthly Features About Verse Daily FAQs Submit to Verse Daily Publications Noted & Received

Copyright © 2002-2010 Verse Daily All Rights Reserved