®

Today's poem is "Etymology"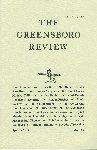 from The Greensboro Review
Stephen Massimilla
has recent poems in AGNI, Colorado Review, Denver Quarterly, Tampa Review, and Verse Daily, among other journals. His books and poems have won the Bordighera Book Prize, the Grolier Poetry Prize. He received an MFA and a PhD from Columbia University, where he now teaches classics and modernist literature.
Other poems by Stephen Massimilla in Verse Daily:
November 3, 2007: "Love Like Rocks" " Respect the rocks, the way they hold..."
September 28, 2005: "Thinks Herself Precious at a Price" " Rounding the Cape Horn, you looked..."
March 16, 2003: "Two in Tropic Twilight" "If I once quickened among the whips..."
Books by Stephen Massimilla:

Other poems on the web by Stephen Massimilla:
"Missed Signs"
Stephen Massimilla's Website.
About The Greensboro Review:

Subscription: 1 year (2 issues), $10
The Greensboro Review * MFA Writing Program * Department of English * 134 McIver Building, UNCG * PO Box 26170 * Greensboro, NC 27402-6170
Poetry Editor: Allison Seay

Other poems from The Greensboro Review in Verse Daily:
May 5, 2010: "Earth-Eater! Earth-Eater!" by Byron A. Kanoti
September 14, 2008: "Big Moon Over the Neighborhood" by David Bruzina
February 22, 2008: "We died during a train wreck" by David Krump
September 15, 2007: "October" by Laura Van Prooyen
September 12, 2007: "Spaghetti Western" by Tom Haushalter
March 18, 2007: "Parked Beneath a Pear Tree" by William Wenthe
March 9, 2007: "Another Good Friday, Good Death" by Gaylord Brewer
April 19, 2006: "Delineation of Light and Water" by Quinn Latimer
April 17, 2006: "Alley in Winter" by Mike White
December 9, 2005: "Monument" by Natasha Trethewey
December 8, 2005: "Necessity at Rådmansgatan" by Hildred Crill
December 7, 2005: "Real Live Boy" by Sarah Lindsay
December 5, 2005: "Reclamation" by Dale Kushner
June 5, 2005: from "Girls' School" by Claudia Emerson
June 3, 2005: "A Capella" Weston Cutter
October 20, 2004: "Steward" by S. Beth Bishop
October 19, 2004: "Firebirds" by Allen C. Fischer
October 18, 2004: "An Artist Like Any Other" by Stephen Dobyns
May 15, 2004: "Childhood is Beautiful" by Annie Gebler
Home
Archives Web Weekly Features About Verse Daily FAQs Submit to Verse Daily Support Verse Daily

Copyright © 2002-2010 Verse Daily All Rights Reserved

All Rights Reserved