®

Today's poem is "Spoke"
from black seeds on a white dish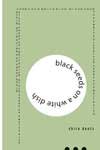 Shira Dentz
is the author of a forthcoming book of poetry, door of thin skins (CavanKerry Press), and a chapbook, Leaf Weather (Tilt Press). Her poems and stories have appeared in many journals including The American Poetry Review, The Iowa Review, Western Humanities Review, jubilat, Brooklyn Rail, The Black Warrior Review, and Bombay Gin, and have been featured on Poetry Daily and National Public Radio. She is the recipient of various awards including an Academy of American Poets' Prize, and The Poetry Society of America's Lyric Poem Award and Cecil Hemely Memorial Award. She is a graduate of the Iowa Writers' Workshop, and is currently Poetry Co-editor of Quarterly West, a Fellow at the Tanner Center for the Humanities in Salt Lake City, and is finishing her Ph.D. in literature and creative writing at the University of Utah. Before leaving for Iowa City and Salt Lake City, she worked for many years as a graphic artist designing music ads in New York City, and taught English in an inner city public high school. black seeds is her first book.
Books by Shira Dentz:

Other poems on the web by Shira Dentz:
Three poems
"Shin, Lamed, Mem"
Two poems
Two poems
Three poems
"Arachne"
Three poems
"The Fall, Revised"
Three poems
"Shin, Lamed, Mem"
About black seeds on a white dish:
"Paul Cézanne once quietly avowed 'I will astonish Paris with an apple.' And now I may, with quite an equal confidence, announce that Shira Dentz will astonish us all with the 'the curve of a melon,' 'a sunray diagonal' and 'pumpkin seeds.' Which is to say that here is a book to unstill all the still life images resting in our hearts. Shira Dentz is the most powerfully delicate poet I know."
—Don Revell
"How does the work of observation meet and intertwine with the pulse of the imagination? How does the initiating spark – from a fantastic array of sources – ramify into a profoundly uttered structure? Each one unto itself, the poems in Shira Dentz's black seeds on a white dish locate our hearts in the grasp and release of her language, at a hanging moment of confluence and branching out, at the precise border where Why? dissolves into It is. Open in our hands, this book becomes a rare and exhilarating thing: a cascade of breaths caught, yet flowing."
—Eric Darton
"What does it mean 'to let the form of things take over'? Shira Dentz is a poet of thrilling disorientations and courageous surrenders, a creature for whom the very letters of the alphabet are seeds of wonder, seeds of grief. Against all that is hollow, bland, and bare, she composes and exposes lush landscapes of sound and sight--punctuated by jagged flashes of irony, quirky comedy, and heartbreaking insight. I relish these poems, and celebrate the appearance of a collection that offers so much that is rare, artful, tender, urgent, unexpected, and true. And I am enthralled by a mind that gives voice to so many forms of desire in lines so freely expressing the shapes of our humanity: 'I want to say my life has / been a pipecleaner, beautifully twisted, / in tandem with others like it."
—Phillis Levin
Support Verse Daily
Sponsor Verse Daily!
Home Archives Web Weekly Features About Verse Daily FAQs Submit to Verse Daily

Copyright © 2002-2010 Verse Daily All Rights Reserved