®

Today's poem is "This Is Not My Story"
from Adamantine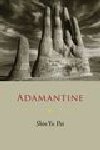 Shin Yu Pai
is the author of Haiku Not Bombs (Booklyn Artists Alliance, 2008), Works on Paper (Convivio Bookworks, 2007), Sightings: Selected Works [2000-2005] (1913 Press, 2007), The Love Hotel Poems (Press Lorentz, 2006), Unnecessary Roughness (xPress(ed), 2005), Equivalence (La Alameda, 2003), and Ten Thousand Miles of Mountains and Rivers (Third Ear Books, 1998). Her work is anthologized in America Zen: A Gathering of Poets (Bottom Dog Press) and The Wisdom Anthology of North American Buddhist Poetry (Wisdom Publications). In addition to her work as a poet, Shin Yu has exhibited her visual work at The Paterson Museum, The Dallas Museum of Art, The McKinney Avenue Contemporary, and The Three Arts Club of Chicago. She has collaborated with individual artists and groups as diverse as Hedwig Dances and the Hudson Exploited Theater Company.
Books by Shin Yu Pai:

Other poems on the web by Shin Yu Pai:
Three poems
"Poem"
"square it up"
Shin Yu Pai's Website.
Shin Yu Pai on Twitter.
About Adamantine:
"The heart of these poems broke open even before this poet was born. Shin Yu Pai has maintained a practice to keep it this way, so that she and all of us might live in that open, compassionate field with neither boundary nor end. How wise of her to know that what is adamantine is the open heart. Fearless seeing, ancient mutterings on contemporary pathways and boulevards, inventive poetics, merciless memories and tender, knowing hands all take their proper place here, where she finds 'every event a mirror / of mind & heart.' Her eyes will help you open what you've held onto too tightly, too long, and her heart will open the rest of you from the first word to the last."
—Peter Levitt
"Shin Yu Pai's new collection Adamantine bristles with taut, startling language that continues to yield surprises even after readers realize that they are at serious play within the fields of the human heart, a realm in which 'we must know when to give in.' Diverse personae inhabit these poems, rendering insight into their traumas, sacrifices, and psychic pathos: from the 'ruined man in a wheelchair' strapped in place on a city bus; to the Chinese migrant worker who suffered a brain hemorrhage that left her comatose, and who was almost cremated alive because her family couldn't afford her hospital care; to the Vietnamese Buddhist monk immolating himself in protest at Indochinese oppression, 'his heart refusing to burn'–this line repeated thrice like a mantra or prayer. This is poetry of compassion and clarity that 'sees past the icon' as the poet makes a journey to China to explore her own ambivalence toward 'traditions that constitute / a personal inheritance.' These poems, 'incised with oracle / markings' whose urgency is heightened in the poet's ancestral legacy, both 'crush illusion' and take 'the Buddha back to his origins.' Reading these poems, we are gratified that the poet has 'come / to make this offering' of language to us."
—Carolyne Wright
"The freshness, luster, and charm of these poems derive not only from a superb and seemingly easeful craftsmanship, but indelibly from a generous infusion of the poet's good heart."
—Mike O'Connor
Support Verse Daily
Sponsor Verse Daily!
Home Archives Web Weekly Features About Verse Daily FAQs Submit to Verse Daily

Copyright © 2002-2010 Verse Daily All Rights Reserved