®

Today's poem is "Valve Job"
from Beneath Stars Long Extinct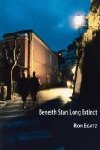 Ron Egatz
has worked as a bartender, creative director, forklift operator, guitarist, security guard, college English teacher, cab driver, actor, typesetter, summons server, director of commercials and IT consultant. He now runs Camber Press, Inc. Winner of the Glimmer Train Poetry Open and the Greenburgh Poetry Award, Egatz lives in a loft on the Hudson River while missing Paris.
Other poems by Ron Egatz in Verse Daily:
Books by Ron Egatz:

Ron Egatz's Website.
Ron Egatz on Twitter.
About Beneath Stars Long Extinct:
"Iím really taken with Beneath Stars Long Extinct. Iíve never read poems quite like these: poems at once sardonic and sad and celebratory as they detail a late 20th Century-early 21st Century unmarried male searching for and finding, yes, true love. But along with this passionate search come Ron Egatzís beautifully rendered stories of others: a hitch-hiking father who meets George Raft, women who die young, lonely near-failure rockers. Egatzís vibrant and extremely tactile poems conduct us into the urban world of choices and relationships in such an expert way that his fascinations become ours. How he illumines our age is not unlike how F. Scott Fitzgerald illuminated and defined his. Egatzís long overdue first collection, then, is a unique portrait of our urbanized times. I should add that each poem is able to stand alone even while each provides another facet to the bookís central searching motifs. Consequently, there are an unusual number of ďkeeperĒ poems here, poems you want or even need to read immediately to friends, particularly those in their 30s and 40s (email them, twitter them, text them, but even better gift them with a copy of this book), necessary poems in this most compelling and necessary collection."
—Dick Allen
"The poems of Ron Egatz are crisp, risky and slightly peculiar. As well-built as a brick crapper, they are a pleasure to read. Like the U.S. Postal Service, they deliver in all weather."
—Stephen Dobyns
"Ron Egatz is a poet I've admired for a long time--for his fervid, restless imagination, and the deeply original employment of that imagination and the heart behind it. He has bided his time and written a splendid book beneath stars still burning!"
—Thomas Lux
Home
Archives Web Weekly Features About Verse Daily FAQs Submit to Verse Daily Support Verse Daily

Copyright © 2002-2010 Verse Daily All Rights Reserved