®

Today's poem is "Ergot Theory"
from The Flight Cage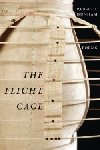 Rebecca Dunham
teaches in the doctoral creative writing program at the University of Wisconsin-Milwaukee. Her first book, The Miniature Room (Truman State, 2006) won the T.S. Eliot Prize. Her poems have appeared in FIELD, The Antioch Review, Prairie Schooner, The Indiana Review, and AGNI.
Other poems by Rebecca Dunham in Verse Daily:
January 17, 2010: "Alfoxden: Dorothy Wordsworth, 1798" "Always we walk to, a great part of the way...."
January 23, 2007: "A Leaf, A Hare" " To arrive, one learns to journey..."
May 12, 2006: "Ontology of the Miniature Room" " If life is a stage, then props are its truest..."
March 4, 2005: "Catherine Blake" "I flush my paintbrush against the water bowl's sides...."
Books by Rebecca Dunham:

Other poems on the web by Rebecca Dunham:
"This is a Letter"
"Tableau"
"Mary Wollstonecraft in Flight"
"Curator of Fruit"
"Rebecca"
"Toast of the Terrarium"
"Letter-Elegy"
"Two Photographs"
About Monkey Lightning:
"In her second collection of poetry, Rebecca Dunham, with stunning formal innovation, parses the blessings and afflictions of womanhood, of motherhood. These poems, brilliant on their surfaces, dark and grave in their depths, will startle the reader with their radiance, and haunt — ghost-ridden as they are — with their otherworldly gravity."
—Eric Pankey
"Dunham's poems are far more than history lessons, for they make their own radical claims on our attention, and their complex tapestry-like ways of making — interweaving the formal and organic, the mimetic and improvisational — make this an enormously compelling reading experience."
—Sherod Santos
"Over and over, this book returns to the body. While acknowledging that 'the body's surest form is loss,' the poems in The Flight Cage celebrate the place of the body in the world. As Dunham insists, 'This is not lament, but refrain. / Knock on it and it will sing.' These poems sing and dazzle."
—Nicole Cooley
Home
Archives Web Weekly Features About Verse Daily FAQs Submit to Verse Daily Support Verse Daily

Copyright © 2002-2010 Verse Daily All Rights Reserved