®

Today's poem is "the fidelity of disagreement"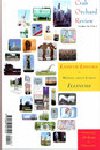 from Crab Orchard Review
Marty McConnell
's work has been published recently in literary journals including Salt Hill Review, Rattapallax, and RATTLE, and is forthcoming in Booth Magazine and Bestiary. She is the founder of Vox Ferus, a Chicago-based literary nonprofit dedicated to empowering individuals and communities through the written and spoken word.
Other poems on the web by Marty McConnell:
"Fable Telling How Night Invented Herself Out of Sound"
"Marrying the Violence"
Marty McConnell on Twitter.
About Crab Orchard Review:

Subscription: 1 year (2 issues), $15
Crab Orchard Review * Department of English * Faner Hall 2380 - Mail Code 4503 * Southern Illinois University Carbondale * 1000 Faner Drive * Carbondale, IL 62901
Editor & Poetry Editor: Allison Joseph

Other poems from Crab Orchard Review in Verse Daily:
November 19, 2009: "Point of View" by Richard Jackson
November 12, 2009: "Hedgerow after Roadwork" by Eamon Grennan
September 11, 2008: "Young John Clare" by Michael Waters
June 26, 2008: "Scar" by Bruce Bond
October 2, 2007: "The Bar Code of Love" by Erika Meitner
October 1, 2007: "This Song is Made of Ideas" by Elizabeth Langemak
August 12, 2007: "Jellies" by Sara Talpos
August 8, 2007: "Home" by Richard Newman
January 19, 2007: "Temporary Sanity" by Rane Arroyo
May 12, 2006: "Ontology of the Miniature Room" by Rebecca Dunham
May 10, 2006: "Language Mixology" by Adrian Matejka
May 8, 2006: "Cow Song" by Susan B.A. Somers-Willett
December 4, 2005: "Rain for Days" by Diane Holland
December 3, 2005: "Heavy Breather Zoo" Jeffrey McDaniel
December 2, 2005: "Under The Eaves" Fleda Brown
July 10, 2005: "The New Retina" by Christina Pugh
July 6, 2005: "Goldfinch After Rain" Elizabeth Harvell
September 19, 2004: "The Visitors" by Sylvia Curbelo
April 18, 2004: "The Ghost of Weather" by Bruce Bond
April 2, 2004: "Oh! On an April Morning" by Neil Shepard
March 31, 2004: "Interior Lighting" by Elton Glaser
July 5, 2003: "King Sugar" by Lorna Knowles Blake
July 3, 2003: "A Simple Campsong" by Lucia Perillo
June 30, 2003: "Tangerine" by Ruth L. Schwartz
February 12, 2003: "Square du Temple" by Marilyn Hacker
February 6, 2003: "Late-Talking Children" by Joanna Smith Rakoff
February 5, 2003: "The Benjamin Franklin of Monogamy" by Jeffrey McDaniel
August 15, 2002: "The Last Words of Alice the Goon" by Paul Guest
August 13, 2002: "Wile E. Coyote Attains Nirvana" by David Hernandez
August 12, 2002: "Interlude: Still Still" by Robin Behn
Home Web Weekly Features Archives About Verse Daily FAQs Submit to Verse Daily

Copyright © 2002-2010 Verse Daily All Rights Reserved