®

Today's poem is "Sunday"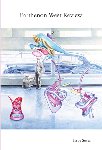 from Parthenon West Review
Jordan Stempleman
is the author of six books of poetry. His most recent collection, Doubled Over, was published by Blaze Vox Books in 2009. Individual poems have recently appeared or ar forthcoming in Colorado Review, Court Green, The Hat, The Laurel Review, New American Writing, Notnostrums, and Sixth Finch. He teaches at Kansas City Art Institute and is the Associate Editor of The Continental Review, a video-only forum for contemporary poetry and poetics.
Other poems by Jordan Stempleman in Verse Daily:
Books by Jordan Stempleman:

Other poems on the web by Jordan Stempleman:
Two poems
Eight poems
Three poems
Five poems
"Look Over Me"
"A Nearing Assembly"
Three poems
from Back Room Poems
"A Nearing Assembly"
Six poems
"After is Personal"
"I'll Leave it On"
Five poems
Three poems
"Dangerous Ideas"
Five poems
Jordan Stempleman's Blog.
About Parthenon West Review:

Subscription: 1 year, $12
Parthenon West Review * 1808 Russell Street * Berkeley, CA 94703
Editor: David Holler * Chad Sweeney
Other poems by Parthenon West Review in Verse Daily:
September 4, 2010: "[without action]" by Maxine Chernoff
October 4, 2009: "Particular Flight" by John Deming
September 28, 2009: "Doors without Locks and Other Entrances" by Timothy Henry
September 25, 2009: "Lilac Tree" by Andrew Sage
September 23, 2009: "Improveras, I Heart Abandonment" by Dannyka Taylor
September 21, 2009: "My Fortune 500 Love Poem" by Rachel Contreni Flynn
Home Web Weekly Features Archives About Verse Daily FAQs Submit to Verse Daily

Copyright © 2002-2010 Verse Daily All Rights Reserved