®

Today's poem is "To Whom It May Concern:"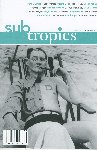 from Subtropics
Erika Meitner
is the author of Inventory at the All-night Drugstore. Her poems have appeared most recently in The American Poetry Review, The Southern Review, Indiana Review, and Shenandoah. She teaches at Virginia Tech.
Other poems by Erika Meitner in Verse Daily:
September 22, 2010: "May the World to Come Be Neon, Be Water" "because my shoes are too tight...."
October 2, 2007: "The Bar Code of Love" " I brandished the wand & pushed..."
February 11, 2004: "Fathom" "A large man holding his arms..."
Books by Erika Meitner:

Other poems on the web by Erika Meitner:
"Big Box Encounter"
Two poems
Two poems
Six poems
"Not a Poem About Driving at Night"
"Vinyl-Sided Epiphany"
Erika Meitner's Website.
Erika Meitner According to Wikipedia.
About Subtropics:

Subscription: 1 year, $26
Subtropics * Subtropics * P.O. Box 112075 * 4008 Turlington Hall * University of Florida * Gainesville, FL 32611-2075
Poetry Editor: Sidney Wade
Other poems by Subtropics in Verse Daily:
August 20, 2009: "Green Heron" by Daniel Wolff
August 14, 2009: "If Palinurus" by Timothy O'Keefe
August 11, 2009: "Shark" by Heather Hamilton
August 10, 2009: "I Will Begin Tagging ôSad Robot Inc...." by Kate Angus
August 7, 2009: "The Reclamation of Paradise" by Stephen Kampa
April 5, 2009: "Monday" by Randall Mann
April 3, 2009: "A History in Six Couplets" by Idra Novey
April 1, 2009: "Scales of Little Wisdom" by Roberto Juarroz (translated by Mary Crow)
July 24, 2008: "Tuning Fork" by Bruce Bond
July 22, 2008: "Bicycling from Todtnauberg" by Suzanne Zweizig
Home Web Weekly Features Archives About Verse Daily FAQs Submit to Verse Daily

Copyright © 2002-2010 Verse Daily All Rights Reserved