®

Today's poem is "Volta"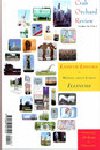 from Crab Orchard Review
Christina Pugh
is the author of Restoration (Northwestern University Press) and Rotary (Word Press). A recepient of the Lucille Medwick Memorial Award from the Poetry Society of America and a fellowship in poetry from the Illinois Arts Council, she is an associate professor of English at the University of Illinois at Chicago.
Other poems by Christina Pugh in Verse Daily:
July 10, 2005: "The New Retina" "is little more..."
August 22, 2004: "Apostrophe" "Early spring forsythia: the flowering..."
August 3, 2004: "Rose City" "The bleared petals..."
Books by Christina Pugh:

Other poems on the web by Christina Pugh:
"Twenty-third"
"Rotary"
"Background: Mark Rothko"
About Crab Orchard Review:

Subscription: 1 year (2 issues), $15
Crab Orchard Review * Department of English * Faner Hall 2380 - Mail Code 4503 * Southern Illinois University Carbondale * 1000 Faner Drive * Carbondale, IL 62901
Editor & Poetry Editor: Allison Joseph

Other poems from Crab Orchard Review in Verse Daily:
November 20, 2010: "the fidelity of disagreement" by Marty McConnell
November 19, 2009: "Point of View" by Richard Jackson
November 12, 2009: "Hedgerow after Roadwork" by Eamon Grennan
September 11, 2008: "Young John Clare" by Michael Waters
June 26, 2008: "Scar" by Bruce Bond
October 2, 2007: "The Bar Code of Love" by Erika Meitner
October 1, 2007: "This Song is Made of Ideas" by Elizabeth Langemak
August 12, 2007: "Jellies" by Sara Talpos
August 8, 2007: "Home" by Richard Newman
January 19, 2007: "Temporary Sanity" by Rane Arroyo
May 12, 2006: "Ontology of the Miniature Room" by Rebecca Dunham
May 10, 2006: "Language Mixology" by Adrian Matejka
May 8, 2006: "Cow Song" by Susan B.A. Somers-Willett
December 4, 2005: "Rain for Days" by Diane Holland
December 3, 2005: "Heavy Breather Zoo" Jeffrey McDaniel
December 2, 2005: "Under The Eaves" Fleda Brown
July 10, 2005: "The New Retina" by Christina Pugh
July 6, 2005: "Goldfinch After Rain" Elizabeth Harvell
September 19, 2004: "The Visitors" by Sylvia Curbelo
April 18, 2004: "The Ghost of Weather" by Bruce Bond
April 2, 2004: "Oh! On an April Morning" by Neil Shepard
March 31, 2004: "Interior Lighting" by Elton Glaser
July 5, 2003: "King Sugar" by Lorna Knowles Blake
July 3, 2003: "A Simple Campsong" by Lucia Perillo
June 30, 2003: "Tangerine" by Ruth L. Schwartz
February 12, 2003: "Square du Temple" by Marilyn Hacker
February 6, 2003: "Late-Talking Children" by Joanna Smith Rakoff
February 5, 2003: "The Benjamin Franklin of Monogamy" by Jeffrey McDaniel
August 15, 2002: "The Last Words of Alice the Goon" by Paul Guest
August 13, 2002: "Wile E. Coyote Attains Nirvana" by David Hernandez
August 12, 2002: "Interlude: Still Still" by Robin Behn
Home Web Weekly Features Archives About Verse Daily FAQs Submit to Verse Daily

Copyright © 2002-2010 Verse Daily All Rights Reserved