®

Today's poem is "Outside Consultant"
from What I Know of Innocence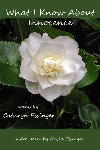 Cathryn Essinger
is the author of two other books of poetry—A Desk In The Elephant House, which won the Walt McDonald First Book Award from Texas Tech University Press, and My Dog Does Not Read Plato, which was the runner up in the Main Street Rag book competition in 2004. Essinger's poems have been anthologized in The Poetry Anthology: 1912-2002, Poetry Daily: 366 Poems, and in O Taste and See: Food Poems. Her work has been featured on Garrison Keillor's Writer's Almanac. Her new work has appeared in such places as The Southern Review, New England Review, and Quarterly West. She received an Ohio Arts Council grant and was Ohio's Poet of the Year in 2005. She is a member of The Greenville Poets, a small but well-published poetry group that does workshop presentations and supports the work of younger writers. She is a professor of English at Edison Community College, in Piqua, Ohio.
Other poems by Cathryn Essinger in Verse Daily:
January 13, 2009: "Bees" "Some worship the sun..."
November 16, 2007: "Why Dogs Tell Stories" " She stands at the end of the driveway..."
January 15-16, 2005: "Mourning Doves" "Surely, in the long, dovetailed history..."
November 29, 2004: "Wonder" "November, and Cinderella's coach is moldering..."
November 22, 2004: "Close Quarters" "Having never opened a can of sardines..."
March 22, 2004: "A Desk in the Elephant House" "Sometimes something huge sits down..."
Books by Cathryn Essinger:
,
Other poems on the web by Cathryn Essinger:
Four poems
Three poems
"My Dog Practices Geometry"
"To Levitate..."
"How Wildness Finds Us"
About Southern Poetry Review:
Poets in this issue: Jeannette Allée, Sarah Barber, Wendy Barker, Grace Bauer, F. J. Bergmann, Marrianna Busching, Erik Campbell, Suzanne Cleary, Temple Cone, Nick Conrad, Julie Danho, Cathryn Essinger, Patrick Ryan Frank, Sarah Getty, K. A. Hays, Kasey Jueds, Kathryn Kirkpatrick, Daniel J. Langton, Lance Larsen, Priscilla Long, Sean Patrick Lyons, Al Maginnes, Greg McBride, Heather Ross Miller, Carolyn Moore, Janice Townley Moore, Alison Pelegrin, Mary Bass Poulin, Steven Rood, Brian Satrom, Neil Shepard, Rebekah Silverman, Katherine Soniat, Alexandra Teague, Jim Tilley, Heather Treseler, Pauline Uchmanowicz, Michael Walsh, Mary-Sherman Willis, William Wright
About What I Know of Innocence:
"Whether tapping into the secret language of dogs or mockingbirds or light, whether tuning the mind's radar in order to detect and understand the loneliness of a mouse or the hopes of bees, whether opening up her own heart to explore the nuances of love for a son and even nameless hippies—Cathryn Essinger reminds us of the magic that exists everywhere if we just pay attention. In wise and elegant, expertly crafted poems that we have come to expect from this masterful poet, we are given the chance to rethink what it means to live in a world that both gives and withholds meaning. As I read, I felt myself opening more fully to the planet's mysteries, regaining a sense of innocence, and learning how the world/is colored again by wonder/and mute admiration of the unknown."
—Neil Carpathios
"In Cathryn Essinger's new book of poems What I Know of Innocence, her trademark, wit, grace and dash are put to brilliant use to explore the realities and mysteries of the world. Stories and relationships are made magical. Dogs and cats, birds, mice and bees more than hold their own with people. Babies levitate and a eulogy for a Big Blue Ball will break your heart. The last quarter of the book deals with the impact of a murder on a farming community, proving once again that a good poet backs off from nothing. And Cathryn Essinger is one of our best poets."
—Tim Suermondt
"What I Know of Innocence concerns itself primarily with benediction, not just directed at what's easy to praise but what's hard to accept.... The whole book abounds in verbal and visual delights, told in an unaffected but highly affecting voice that sounds both neighborly and newsworthy. It's a pleasure to be caught up in these catchy poems."
—John Drury
Support Verse Daily
Sponsor Verse Daily!
Home Archives Web Monthly Features About Verse Daily FAQs Submit to Verse Daily Publications Noted & Received
Copyright © 2002-2010 Verse Daily All Rights Reserved