®

Today's poem is "The Claw"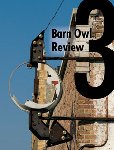 from Barn Owl Review
Angela Vogel
's poems appear in Best New Poets 2008, The National Poetry Review, Barrow Street, & POOL, and are forthcoming in The Journal and The American Poetry Journal. Awards include the 2008 Southeast Review Poetry Prize, a Maryland State poetry fellowship, two Pushcart Prize nominations, and a residency at the Mary Anderson Center for the Arts. Her chapbook, Social Smile, is available from Finishing Line Press.
Other poems by Angela Vogel in Verse Daily:
March 18, 2010: "Asphodel" "Hi, I'm Asphodel, the flower of hell..."
September 23, 2008: "The Huntsman's Resumé" "Oh, I'm ready for the chase. The green pelts, the headless acorns...."
June 16, 2007: "Iconography of the Heart" " We see it haunting lockets, cards..."
October 19, 2006: "The Trouble with Hammers" " The trouble with owning hammers..."
Books by Angela Vogel:

Other poems on the web by Angela Vogel:
"Rosebud, or Now That I am Older"
Three poems
About Barn Owl Review:

Subscription: 1 issue: $12
Editors-in-Chief: Mary Biddinger * Jay Robinson
Other poems by Barn Owl Review in Verse Daily:
March 19, 2009: "Clouds" by Jason Bredle
March 18, 2009: "How it Started" by Leslie Harrison
March 16, 2009: "Return as Black Currant" by Anna Journey
February 23, 2008: "Proposal" by Sandra Beasley
February 21, 2008: "Scientific Method" by Adam Clay
February 20, 2008: "Driving Out to Innisfree" by Matthew Thorburn
February 18, 2008: "Street Fight" by Wayne Miller
Home Web Weekly Features Archives About Verse Daily FAQs Submit to Verse Daily

Copyright © 2002-2010 Verse Daily All Rights Reserved