®

Today's poem is "Threading"
from A Single Hurt Color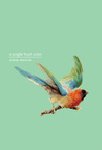 Andrew Demcak
is an award-winning poet who has been widely published and anthologized both in print and on-line. His most recent book of poetry is Zero Summer (BlazeVOX [books], NY, 2009.) His first poetry book, Catching Tigers in Red Weather (Three Candles Press, 2007), won the Three Candles Press Open Book Award. His poem "Handhold (for a Zygote)" won Goodread's Newsletter Poetry Contest, and was read by 2.5 million Goodreaders. His poetry, including the poem "Young Man With iPod" (Poetry Midwest, #13), is taught at Ohio State University as part of its English 110.02 class, "The Genius and the Madman." His poems/books have been featured recently at The Best American Poetry Blog, The American Poetry Journal, Juked!, MiPOesias, Scythe, The Pebble Lake Review, elimae, O & S(Poets & Artists), and Pearl Magazine.
Other poems by Andrew Demcak in Verse Daily:
Books by Andrew Demcak:

Other poems on the web by Andrew Demcak:
Four poems
Three poems
Three poems
Four poems
Four poems
"The Rabbit Catcher"
Two poems
Andrew Demcak's Website.
Andrew Demcak According to Wikipedia.
About A Single Hurt Color:
"The title of Andrew Demcak's new book, A Single Hurt Color, is borrowed from the Gertrude Stein poem 'A Carafe, That Is a Blind Glass' which very much reminds me of the broken snow globe at the beginning of Orson Welles' classic 'Citizen Kane.' Like that film, Demcak renders a view of the world through the filter of a shard, exposing the sharper edges, while at other times opening the reader's eye to a new shade. The poet colors pop culture, politics, nature, science, relationships and reflections, with a piercing command of language, while employing a keenly tuned ear to the music of each word."
—J.P. Dancing Bear
"Andrew Demcak opens yet more vistas into that seductive world he continues to create in his new book of poems, A Single Hurt Color. And even for the polished practiced linguist he has revealed before, this sturdy volume reaches even higher marks on the rising tide of his young career. Demcak is a wizard with words, a sorcerer and lusty sensualist who is able to paint indelible images that may fly past the reader's eye as in his haiku settings, or linger in the musky flavors of physical encounters experienced or imagined. He whisks us away on journeys to other times, other places, dabbles with thoughts of Kurt Cobain, Wallace Stevens and Freud, channels Icarus, Samson and Delilah, and Joseph Smith, tinkers with lovesongs to mussels and orchids, and summons some of the most erotic scenes imaginable. Demcak at once entertains, challenges, seduces, and puzzles us with some of the finest new work being birthed today – a poet shaman!"
—Grady Harp
"The prolific Andrew Demcak returns in his third poetry collection, A Single Hurt Color, with his pithy and succinct lyrics, full of agile turns and that crisp music we have come to know and appreciate from him. This time around Demcak organizes his work into three sections that explore our daily grammatical relationships to the world. Indeed, taking a cue from Gertrude Stein with the collection's title, grammar is the thing that connects us, to the world and to each other. And so you will find Demcak's consciousness starting broad, touching, holding, studying the objects and things and people of the third person, then narrowing to the more intimate "you" as a myriad of second persons are addressed, ending with the very immediate and singular first person "I" and the stories that make up that identity. While the list of objects and persons, living and dead, that people these poems are too numerous to list, each is chosen carefully for you to consider. You will read and re-read these poems as if it is the first time you've encountered the world as the world is refracted back to you through the hue of a "single hurt color," that lens of a wine-blushed kaleidoscope."
—Matthew Hittinger
Support Verse Daily
Sponsor Verse Daily!
Home Archives Web Monthly Features About Verse Daily FAQs Submit to Verse Daily Publications Noted & Received
Copyright © 2002-2010 Verse Daily All Rights Reserved