®

Today's poem is "Bear"
from Arranging the Blaze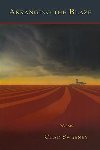 Chad Sweeney
was born in Norman, Oklahoma. He is the author of An Architecture (BlazeVOX, 2007) and A Mirror to Shatter the Hammer (Tarpaulin Sky, 2006). Chosen for Best American Poetry 2008 by Charles Wright, Sweeney's work has appeared in journals such as Barrow Street, Crazyhorse, New American Writing, Verse, Colorado Review, Hunger Mountain, Black Warrior Review, Passages North, Runes, and American Letters & Commentary.He edits Parthenon West Review with David Holler, and is the editor of Days I Moved Through Ordinary Sounds (City Lights, 2009), an anthology of poetry, fiction and memoir by the teaching artists of the national WritersCorps. With Mojdeh Marashi, Sweeney translated a book of Iranian poetry, Arghavaan, Selected Poems of H.E. Sayeh, for which he was awarded a grant from the San Francisco Arts Commission. He earned a B.A. in English from the University of Oklahoma and an MFA in poetry from San Francisco State University. He is currently a Ph.D. candidate in literature/poetry at Western Michigan University, where he teaches creative writing and serves as assistant editor for New Issues Press. He lives in Kalamazoo with his wife, poet Jennifer Kochanek Sweeney.
Books by Chad Sweeney:

Other poems on the web by Chad Sweeney:
Two poems
from An Architecture
Three poems
"The Dome"
"New Mexico"
Chad Sweeney according to Wikipedia.
About Arranging the Blaze:
"I am enthralled by Chad Sweeney s exquisite poems. Philosophical, exploratory in the way the mind naturally wanders gentle, humorous, of history and time and geography, human tragedy and joy too. These poems are devotional prayers where this valley/ has forgotten the snow/ on its white stem meditations on death and light and story, in most endings I am never/ born and the story// moves through telephone wires/ at the pitiless speed of rumor. Pixelating ghostly reality, the poet bears witness to the changing and changeless, where the osprey breaks into the fullness of being, and here is the world. And finally, there are stunning love poems, Shaken//by more love than I knew/existed, I wept, and May I never know her entirely,/may her migrations elude me. I weep, too, to discover this poet."
—Sharon Dougiago
"The poetry of Chad Sweeney is exuberant, imagistic, and prophetic. It locates a "critical moment" of the ineffable that would be inexpressible, had it not been so beautifully expressed: "the last hawk in the net of his eye." Prophetic means of the world — "the median burns with oleander from Miami to LA" and "the beer tastes of uranium" — but also touched by the marvelous ("the fire is folded inside its wood"). This is a poetry of awakening, of coming into knowledge. We are near the beginning and the end, but in a curiously real place where you can hear the white teeth of a bull pull at the grass."
—Paul Hoover
"In Chad Sweeney s remarkable collection Arranging The Blaze the too-often singularized act of perception multiplies endlessly with exceptional visual focus and formal tact returning the human voice and the world that speaks through that voice to some prior established order no less complex or kinetic or touching with otherwise neglected wonders. The motive is to speak from the source and bring coherence to whatever life it issues, meaning that circumstances are unloosed by vision itself, that there is nothing irrevocable about nature which after all, is a constant taking under and bringing forth. Poetic effort become collaborative with creation itself, mangled and rusted and fractured sometimes but shining always this book is that ambitious, this writer is that intent on rejoicing as many possibilities as his capacities can bear."
—William Olsen
Support Verse Daily
Sponsor Verse Daily!
Home Archives Web Monthly Features About Verse Daily FAQs Submit to Verse Daily Publications Noted & Received
Copyright © 2002-2009 Verse Daily All Rights Reserved