®

Today's poem is "Sky One"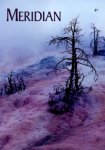 from Meridian
Nance Van Winckel
's fourth collection of poetry is Beside Ourselves. A new collection of poems will be out in January 2007 from U. of Washington Press. She's received a Pushcart Prize, Poetry Magazine's Friends of Literature Award, and two NEA Fellowships. Recent poems appear in APR, Ploughshares, Poetry, New Letters, and The Massachusetts Review. She teaches in the MFA programs at Eastern Washington University and Vermont College.
Other poems by Nance Van Winckel in Verse Daily:

December 28, 2006: "The Object of the Object" " : to bound, or be..."
November 6, 2006: "The Forgiveness Channel" " Is your shadow bird over..."
December 20, 2005: "And the Wound Says" " Step into the river and let the ripples cool us...."
June 24, 2005: "When the River Comes Toward Me" "it comes with whatever it's..."
January 12, 2005: "Awaiting the Return Ferry" "Ghostly, echoes of old guffaws from a crowd..."
July 13, 2004: "Simone Weil at the Renault Factory (1935)" "A thread in a line of threads, she stands..."
January 9, 2004: "Let me Remind You You Are Still Under Oath" "Out of marsh out of the bronchial..."
February 3, 2003: "Passing Through the Shadows Of Great Buildings" "The beggar in plaid blankets wanted to kiss my hand..."
January 15, 2003: "Cautionary Tale" "The funny bearded goat..."
January 6, 2003: "Bid Me Be the Bird" "May the lower, liquid half of the world..."
About Meridian:
Poets in this issue: Keith Althaus, Herman Asarnow, Sam Byfield, Patrick Donnelly, Matthew Gavin Frank, Isabel Galbraith, Kimberly Johnson, Agi Mishol, Gregory Orr, Minnie Bruce Pratt, Josh Rathkamp, Michael Robins, Lisa Russ Spaar, Sam Taylor, Nance Van Winckel
Subscription: 1 year (2 issues), $10
Meridian * University of Virginia * P.O. Box 400145 * Charlottesville, VA 22904-4145
Editor: Ryan Fox

Other poems from Meridian in Verse Daily:
July 13, 2006: "The Sign" by Elizabeth Sanger
July 12, 2006: "Domiciliary of the State" by Kevin Barents
July 11, 2006: "Poem Against Poem" by George Moore
February 22, 2006: "If You Cannot Be True" by Hayden Draper
July 1, 2005: "Greenhouse" by Rebecca Givens
June 30, 2005: "Animals" Alison Powell
June 27, 2005: "Tehachapi" St. James Wood
February 10, 2005: "Ecclesiastes" by Susan L. Miller
November 3, 2004: "'Thank You'" by Mia Leonin
June 3, 2004: "The Given" by Lawrence Revard
June 1, 2004: "Oyster Shard" by Sarah M. Brownsberger
May 31, 2004: "Behind the Fear of Flying" by Jason Nemec
February 2, 2004: "An Admonition" by Seamus Heaney
November 11, 2003: "Impossible Garden" by John Isles
July 24, 2003: "from The Decalogue (III)" by Susan Wood
July 22, 2003: "The Runes, the Brute Remedies" by Elton Glaser
January 30, 2003: "Ode on Satan's Power" by Barbara Hamby
September 8, 2002: "Plato and the Fall" by David Young
September 4, 2002: "Blue Colonial" by David Roderick
August 26, 2002: "Improvident Knowledge" by R. T. Smith
Support Verse Daily
Sponsor Verse Daily!
Home Archives Web Monthly Features About Verse Daily FAQs Submit to Verse Daily Publications Noted & Received
Copyright © 2002, 2003, 2004, 2005, 2006, 2007 Verse Daily All Rights Reserved