®

Today's poem is "The Faithful"
from Flume Ride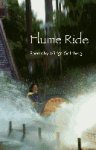 Midge Goldberg
was born in 1964, grew up in Florida, and moved to New England to attend Yale University. A software designer for 16 years, she received an MFA from the University of New Hampshire in 2006 and teaches poetry at Chester College of New England. Her poems have appeared in The Atlanta Review, Measure, Yankee, Dogwood, and other national journals. She lives in Derry, NH, with her two children. Flume Ride is her first book of poetry.
Other poems by Midge Goldberg in Verse Daily:
May 29, 2004: "The Fish" "'But what about the fish?' my daughter asks...."
About Flume Ride:
"Midge Goldberg's poems in Flume Ride are formal without formality, metered and often rhymed with the fine casualness and ease of movement commonly associated with free verse. Keenly observant, subtle, wry, and always embracing the world with a largeness of spirit and intelligence, Goldberg has crafted a unique voice. This is poetry of a high order, but it is also verse, close kin to song and wisdom."
—B.H. Fairchild
"Though Midge Goldberg titled her collection Flume Ride, another poem more truly captures the book's essence: 'Walking on Ice.' Like the geese in that poem, Goldberg recalls 'what lies beneath, how footing changes, / How pressure builds and cracks and rearranges' the carefully ordered surface of our lives. Imbuing not only love and motherhood with fresh insights, Goldberg wrings wisdom from life's simplest routines. Packing shoes for a vacation leads her to imagine 'which she she'll need to conjure up with shoes.' Mowing the grass, the poet discovers that the patterns that she longs 'to bring to pass / get mown and overgrown like summer grass.' To illustrate life's fragility and arrest it in its flight, Goldberg crafts sonnets and shapely stanzas meant to last."
—Paul Lake
"It's a pleasure holding a manuscript by Midge Goldberg and anticipating the publication of these highly individual, distinguished, beautifully-crafted poems I've loved for years....Midge Goldberg has written a book both for those young enough to be learning the landscape of adult life, and for those old enough to recognize the scenery."
—Rhina Espaillat
"I find in these poems exactly the qualities I would look for in a friend: intelligence, honesty, openness and warmth of feeling. There is no posturing here, no putting on airs, no ism in the background telling the poet and the reader what to think. Here is a poet with both feet on the ground, reminding us that, as Frost said, 'earth's the right place for love.' It's the right place for parades and for radio weddings, for skating rinks, yard sales and sump pumps, theorems and hemlines; it's the right place to cross yourself before your turn at bat. It's as good a place as any for invoking superheroes to get the youngest to eat his broccoli. It's the place to find all the stuff of poetry, much of which hasn't found its way into poems till now. There's room for all of it here because the usual load of angst is left out, the better to include the reader as well. You'll feel welcome here. You'll know you're in the right place."
—Alfred Nicol
"Midge Goldberg's poems are a gallery of pictures painted with such wit, emotion and intelligence that they become three-dimensional and let us step inside them."
—Deborah Warren
Support Verse Daily
Sponsor Verse Daily!
Home Archives Web Monthly Features About Verse Daily FAQs Submit to Verse Daily Publications Noted & Received
Copyright © 2002, 2003, 2004, 2005, 2006, 2007 Verse Daily All Rights Reserved